Little Grand Rapids, Man., fire evacuation now a 'rescue mission': chief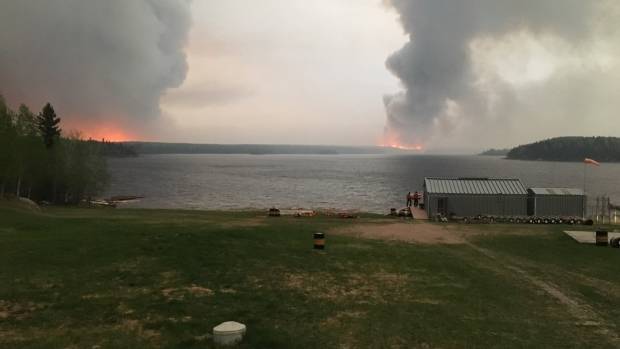 Indigenous leaders say federal and provincial officials are to blame for hundreds of people getting stuck in Little Grand Rapids as a wildfire rages nearby.
Chief Raymond Keeper said it's no longer an evacuation, but a "rescue mission" to get the 630 or so people waiting in the community's school gym out of the community, 265 kilometres northeast of Winnipeg.
They crowded into the school gym in Little Grand Rapids overnight, waiting to be flown to safety as the fire moves closer to the community.
But the province says the First Nation made the decision to evacuate on its own.
A provincial spokesperson says the human-caused fire spread quickly from the shore near Little Grand Rapids on Monday and Tuesday.
"Senior staff from [Sustainable Development] tried to reach out to the chief and council to discuss an evacuation of vulnerable persons, and potentially children and elders. Staff were not able to reach anyone from the council, and left a number of messages at the band office," a provincial spokesperson said in an email.
The province says that Little Grand Rapids didn't notify them before declaring an evacuation was needed.
"Once a decision to evacuate has been made, First Nations communities coordinate with the Canadian Red Cross. It is not known if anyone from Little Grand Rapids contacted the federal government to discuss the options or ensure there was a plan in place," the provincial spokesperson said.
Grand Chief Jerry Daniels of the Southern Chiefs' Organization says they've been asking government officials for an evacuation of the community for the last two days.
But Daniels says he was told the fire was under control.
"It's all of our people that are stuck in the community. All the non-Indigenous people were flown out. People need to understand that, what's going on, because that's totally unacceptable."
The province "knew … that it was dry, that the fire was going to spread, that it was going to get bigger, but it got worse," said Coun. Clinton Keeper.
Initial reports said 11 houses were destroyed.
Indigenous Services Canada is monitoring the situation closely, said spokeswoman Martine Stevens, and regional staff have met with the chief and council.
Pauingassi First Nation, north of Little Grand Rapids, was also being evacuated due to the fire.
Amik Aviation, which provides transportation to northern communities in Manitoba, cancelled all of it's regularly scheduled flights to help Wednesday. Manager Terrence Owen said the company used float planes to land on the water and then transport people by boat to the plane.
"It's pretty bad. I can see it on everyone's faces," he said. "No one has seen a fire like this before."
A CH-147 Chinook helicopter was to fly about 90 people out of Little Grand Rapids Wednesday, said David Lavalee, a Royal Canadian Air Force spokesman.
About 160 people had been evacuated by Wednesday afternoon, band officials said.
Crews from Manitoba and Ontario are fighting the wildfire along with water bombers from Quebec.