Former NHL player speaks to high school students at First Nations symposium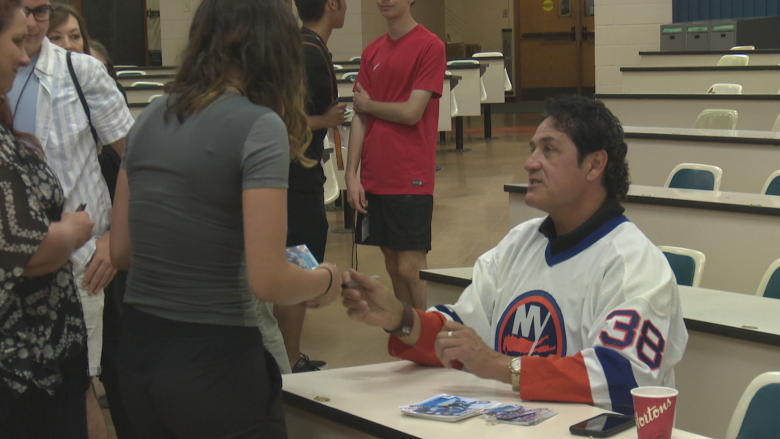 It's a career that spans 31 years across 13 leagues, including five appearances in the NHL for the New York Islanders and Phoenix Coyotes.
Throughout his career, Jason Simon indulged in the fast-paced lifestyle associated with professional hockey — which included an ever-increasing dependence on drugs and alcohol.
Now three years sober, Simon is taking his story on the road — speaking to high school students about overcoming addiction and maintaining good mental health.
Simon also gave out autographed hockey cards to students who attended his keynote speech. (Arms Bumanlag/CBC)
Giving back
The Aamjiwnaang First Nation member spoke to local high school students Monday at the First Nations, Metis and Inuit Youth Symposium, hosted by the Greater Essex County District School Board at the University of Windsor.
Simon said he realized something was missing in his life after his retirement in 2008. The result was a personal mission to inspire students across the country.
"For me, I love giving back and teaching the youth about setting short-term and long-term goals and achieving anything they set their mind to."
Simon said he is extremely grateful to speak to students directly and provide them with a role model — something he didn't have as a child.
"They have questions for me. It's inspiring to me that they're listening and they're understanding the message that I'm trying to send out."
Tina DeCastro, a teaching consultant who works in the area of Indigenous education, said it is important for students to hear Simon's story. (Arms Bumanlag/CBC)
Listen, learn, lead
Tina DeCastro helps shape lessons on Canada's Indigenous people at the Greater Essex District School Board. She said the event's theme of "Listen, Learn, Lead" is about taking action against Indigenous issues.
"There's a lot of learning that needs to happen in the area of Indigenous education … we want our students to feel empowered and inspired to move forward," she said.
Edward Shipman attends Honourable W.C. Kennedy Collegiate in Windsor. (Arms Bumanlag/CBC)
Kennedy high school student Edward Shipman was appreciative of the opportunity to hear from a person directly affected by addiction.
"I think I want to dedicate myself more and just be more determined and never give up on what I want to achieve in life," Shipman said.