Venezuela, Russia aim to dodge sanctions with cryptocurrency, but experts aren't buying it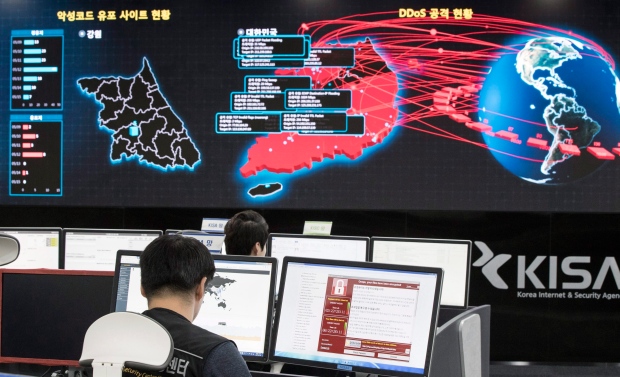 The governments of Russia and Venezuela are turning to cryptocurrencies in an effort to dodge international sanctions, but cybersecurity analysts and former government officials say it's a long shot.
Nicolas Maduro, president of the oil-rich but economically beleaguered South American country, said in early January on state television that he had ordered the creation of 100 million "petro" backed by "the legal sustenance of Venezuela's certified and legalized oil wealth."
Maduro has said the cryptocurrency will help "overcome the financial blockade," referring to U.S.-led sanctions against his country.
In the case of Russia, an aide to President Vladimir Putin floated a similar plan in December, local and foreign media reported.
Creating a "cryptoruble" would help the Kremlin "settle accounts with our counterparties all over the world with no regard for sanctions," Sergei Glazev said at a government meeting, according to the Financial Times.
A cryptocurrency is a digital medium of exchange that isn't controlled by a central authority such as a bank. There are hundreds in existence. Transactions happen directly between buyers and sellers through a network of computers, and users can trade them through devoted currency exchanges.
Venezuela and Russia appear to be hoping that the decentralized nature of cryptocurrencies will provide a way to bypass financial institutions that can be compelled to help enforce economic sanctions.
But significant technical limitations stand in the way of implementing state-backed cryptocurrencies, said Paul Triolo, head of geotechnology at the Eurasia Group consultancy.
"The underlying algorithms that are behind a lot of these cryptocurrencies were not designed for really high-volume transactions. And as interest in them has increased, and these exchanges are doing more and more transactions, it's put a real strain on the technology," he said.
"I think we're still a ways away from a country deploying this on a large scale."
Pyongyang cybercrime
North Korea has also been showing a growing interest in cryptocurrencies. The perpetrators of last year's WannaCry ransomware attack — which has been widely attributed to Pyongyang — used two cryptocurrencies to make off with the proceeds, according to cyberthreat intelligence company Recorded Future.
Malicious code locked up computers in several countries and demanded payment in bitcoin, the largest cryptocurrency by market capitalization, to release them. Those funds were eventually converted into monero, which is billed as untraceable, said Priscilla Moriuchi, Recorded Future's director of strategic threat development.
A report released last summer by cybersecurity firm FireEye also found evidence of "state-sponsored actors" from North Korea trying to steal bitcoin and other cryptocurrencies "as a means of evading sanctions and obtaining hard currencies to fund the regime."
At least three South Korean exchanges were targeted by hackers from the North over a few months, the report said.
'Not some kind of magic bullet'
Edward Fishman, a former civil servant who worked on sanctions policy at the U.S. State Department during the Obama administration, believes U.S. regulators will likely adapt to these new tactics fairly quickly.
"Cryptocurrencies will probably change the way sanctions are implemented and enforced," he told CBC News. "But they're not some kind of magic bullet for the Russias or the Venezuelas or the North Koreas of the world that are trying to evade sanctions."
If a cryptocurrency deal involving a sanctioned company involves computer servers on American soil, for example, Fishman said regulators could potentially deem that a U.S. "nexus" in the transaction, requiring the domestic businesses involved to halt it.
The volatility of cryptocurrencies could make them less attractive to governments targeted by sanctions, said Richard Nephew, who also worked on sanctions policy in the Obama White House. Bitcoin, for example, has seen wild price swings in recent months.
Greater oversight coming
Governments of major economies are turning their attention toward greater regulation of cryptocurrencies, spurred partly by fears of money laundering and tax evasion.
China has been clamping down on the industry, and South Korea plans to ban trading. In Canada, the federal government is developing rules "to mitigate the money laundering and terrorist financing risk of virtual currencies," a spokesperson for Finance Canada said by email.
'What we see law enforcement and regulators and tax authorities focus on is the on and off ramps.' — Luke McNamara, cybersecurity analyst
The U.S. government passed a law last year that called for an analysis of trends in "illicit finance" involving cryptocurrencies to get a better handle on the problem. And the European Union is looking at changes that would allow authorities to better monitor "suspicious transactions" at companies that exchange virtual for fiat currencies.
"What we see law enforcement and regulators and tax authorities focus on is the on and off ramps… that's really where the controls are in place," said Luke McNamara, a senior analyst at FireEye.
"At the end of the day, there are few options to use bitcoin as a day-to-day means of payment and transaction, so typically people have to cash out into some local currency to use it."