Punitive Bombardier duties show Trump's trade plan all about protectionism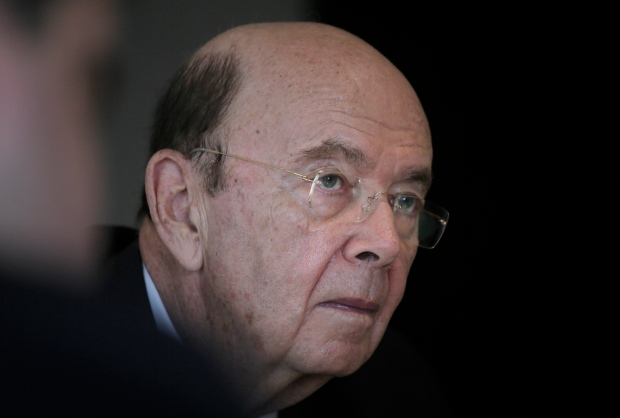 It's now crystal clear that Donald Trump's pledge to "Make America Great Again" depends in large measure on protecting U.S. businesses like Boeing from any competition, whenever possible and apparently at any cost.
Canadian trade negotiators are no doubt aware of that as they continue to negotiate a more modern version of NAFTA, including a better way to resolve disputes with their American and Mexican counterparts.
This week's decision by the U.S. Commerce Department to slap a 220 per cent countervailing duty on Bombardier's CSeries commercial jet is not only far more than Boeing sought, it threatens to damage relations with valued allies, hurts U.S.-based airlines interested in buying the new jets and threatens tens of thousands of jobs in several countries.
Whose rules?
A decision on whether to levy even more duties is expected next week.
"The U.S. values its relationship with Canada, but even our closest allies must play by the rules," Commerce Secretary Wilbur Ross said Tuesday in a news release.
OK. Let's talk about those "rules."
The first thing to realize is that the Trump administration is prepared to impose crippling duties upon request.
"The current administration has a different view of protectionism," says Dan Ikenson, director of the Center for Trade Policy Studies at the Cato Institute in Washington, DC.
The president and Ross take the view, he adds, that the U.S. is owed something by the rest of the world.
What about Boeing's tax breaks?
"By that they mean we are the United States. The benevolent giant. We have done a lot for the world over the past 75 years, which means everybody needs to abide by the rules of the trading system. But if we fudge the rules, that's OK."
Boeing, for example, is the beneficiary of billions of dollars in tax breaks and incentives offered by various levels of government in the U.S. That support remains at the heart of a 13-year battle between the company and Europe's Airbus, each company accusing the other of living off the avails of government.
Now Boeing is looking north, complaining to the U.S. government that Bombardier is undercutting its domestic market with the help of subsidies from the Quebec and federal governments.
Not surprisingly, governments here don't see it that way.
Quebec calls its support an investment. The federal government calls its $373 million in aid a "repayable contribution" for research and development.
But with Trump, Boeing has found its Galahad. The man who intends to make America great again by erecting new, and ever more punishing, barriers to competition from abroad, whether it's softwood lumber or milk.
And now airplanes.
Delta isn't happy
Never mind that U.S.-based  Delta Airlines told the U.S. government that it bought the CSeries aircraft because Boeing doesn't even make a similar-sized commercial jet.
"They did not have a plane that satisfied our mission profile and needs," said Greg May, a senior vice-president at Delta.
Never mind that another ally, U.K. Prime Minister Theresa May, has twice urged Trump to head off this dispute.
Bombardier employs nearly 5,000 workers in Northern Ireland and thousands of others at various suppliers in the region. The area is represented by Democratic Union MPs whose support is crucial to May's minority government.
'What is this agreement worth? What are the chapters on conflict settlements worth when unilateral decisions can be made to close borders selectively?' – David Chartrand, International Association of Machinists and Aerospace Workers.
On Wednesday, the British government reminded Boeing directly that it is also a significant client.
"Boeing has significant defence contracts with us and still wants to win further contracts," U.K. Defence Secretary Michael Fallon said at a news conference. "This is not the behaviour we expect."
Canada, too, is threatening to cancel plans to spend nearly $5 billion to buy Boeing Super Hornet fighter jets.
But here's the biggest head scratcher.
Lots of U.S. jobs depend on Bombardier
More than 50 per cent of the value in the CSeries planes comes from the U.S., says Bombardier spokesperson Bryan Tucker, which translates to 22,000 American jobs building engine parts, the flight deck, the avionics systems and brakes.
"What's important in all of this is how integrated the supply chains are in North America," Tucker said. "There is a complex business. It's not pinto beans or sheet aluminum here — this a high value-added industry."
Boeing, of course, employs thousands of Canadians in its plants here.  
Jobs with both companies, on two continents, are now less secure.  
So now what?
Foreign Affairs Minister Chrystia Freeland met Boeing International president Marc Allen last Thursday in New York. More meetings are likely.
She also expressed Canada's objections during the NAFTA negotiations taking place this week in Ottawa.
Those discussions, already difficult, may now be an even tougher sell at home.
"What is this agreement worth? What are the chapters on conflict settlements worth when unilateral decisions can be made to close borders selectively?" asked David Chartrand, the Quebec coordinator of the International Association of Machinists and Aerospace Workers.
How disputes are solved a key issue
Ikenson says the Boeing dispute highlights the pressing need to change the way disputes are resolved. His advice to Canada is that the country would be better off relying on the U.S. courts to resolve these kinds of disputes.
Canada, of course, is fighting for just the opposite — to preserve the independent dispute resolution process. That's not going to change, especially when the Trump administration believes protectionism is a big part of the plan to make America great again.