'Progress remains disappointing': Cami union on talks with GM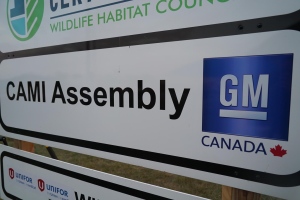 The union representing striking workers at Cami Automotive in Ingersoll, Ont., says it's disappointed after a high-level meeting in Detroit with General Motors failed to break the deadlock.
The 2,800 workers walked off the job almost two weeks ago in the town.
Already, businesses in Ingersoll and auto suppliers in southwestern Ontario are feeling the impact.
"Progress remains disappointing," said Unifor 88 in a statement released Saturday.
The talks had moved Thursday to Detroit where General Motors is headquartered, after days of negotiations on this side of the border generated little movement.
The union said it met with the heads of GM's North American Manufacturing and Finance.
"We expressed concerns around our outstanding issues, such as job security, economics and contract language," the union's statement reads.
It also said GM responded late Friday, but the company did not address its issues..
"The master bargaining committee, along with our Unifor national representatives, continue to meet with the company but there is little progress being made." 
The union added that talks continue — though there is no detail on where those talks will happen.
The biggest issue for the bargaining unit is job security with workers demanding the company guarantee it won't move production of the Chevy Equinox out of Ingersoll. 
GM relocated production of the GMC Terrain earlier this year to Mexico, resulting in the loss of about 400 jobs. 
A rally for auto workers is being planned for next Friday in Ingersoll.