Made-in-Chicago Movie "Signature Move" Premieres in Windy City September 29th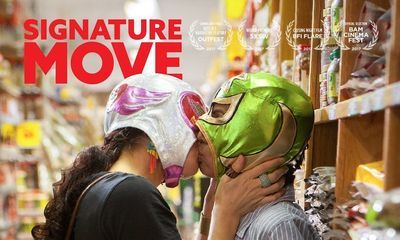 "Signature Move," the latest feature from acclaimed filmmaker Jennifer Reeder, is the first movie produced by the long-running Chicago publication, Newcity. It undertook production of the picture two-and-a-half years ago as an experiment to illuminate the talent both in front of and behind the camera in the Windy City. The film was shot in Chicago, features a local cast and crew and its postproduction work was also handled here. Since its premiere this past March at SXSW, "Signature Move" has screened at numerous festivals worldwide, earning prizes at L.A. Outfest and FilmOut San Diego, among others. Newcity editor and publisher Brian Hieggelke says that there was immense purpose behind his publication's involvement in the project.
"It was a reflection of our belief that the city's moment was now, in terms of building an independent film culture on a par with so many of its other cultural spaces, from theater to comedy to dance to to culinary arts, and our desire to help be a catalyst for making that culture a reality," says Hieggelke.
The film stars Fawzia Mirza as Zaynab, a Pakistani woman who takes care of her mother, Parveen (Shabana Azmi), while secretly leading a double life as a Lucha-style wrestler. When Zaynab falls for a Mexican woman, Alma (Sari Sanchez), she avoids breaking the news to her mother, who's intent on finding her daughter a husband by spying on random pedestrians. There's a very funny running gag involving Parveen's favored soap opera, which has a penchant for articulating the unspoken feelings simmering between her and Zaynab. Carrying echoes of another indie charmer, Michael Showalter's "The Big Sick," this film is an endearing slice of life set in Chicago's Little Village, celebrating the textured lives of the city's immigrant community.
"Signature Move" will have a red carpet Chicago premiere at the Music Box Theatre on Friday, September 29th, followed by an after party benefiting Newcity's cultural nonprofit producing partner, Full Spectrum Features. It will also screen at the Music Box on Tuesday, October 3rd, as part of the Midwest Independent Film Festival.
For more information on "Signature Move," visit the film's official site.