St. Albert Instagram model ditches bikini pics, loses 70K followers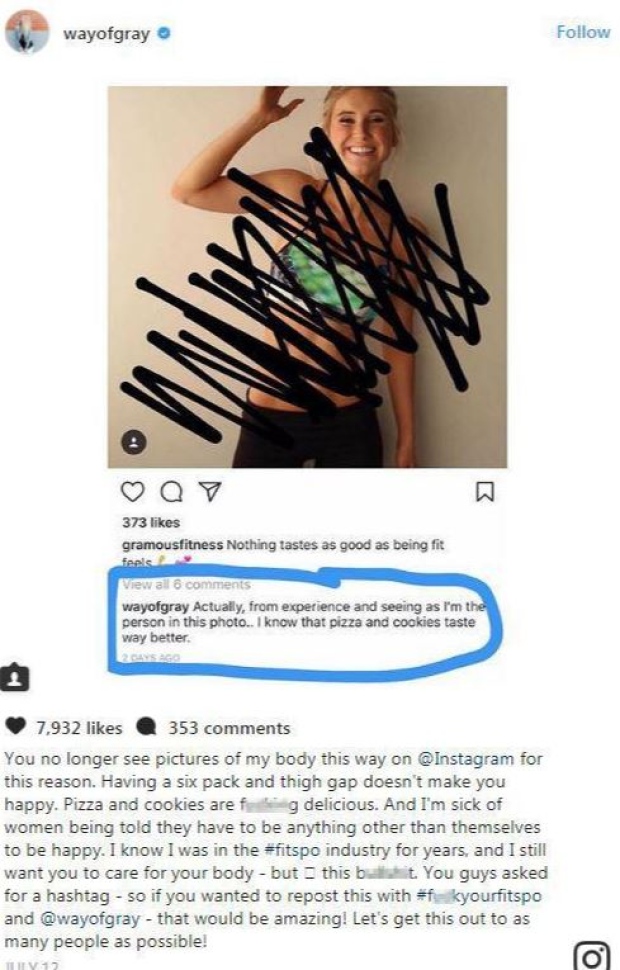 When Alberta Instagram sensation Sophie Gray announced that she was done posting photographs that showed off her body, her account took a nosedive.
Almost overnight, her account lost nearly 70,000 followers. But she says she was fed up with posting images of herself in spray tans and colourful sports bras.
"Before, there were a lot of messages of self-love. I've always talked about that and I always believed that, however, up until this point I wouldn't say I embodied that," Gray said in an interview with CBC Radio's Edmonton AM.
"It was self-love, but here is a picture of me in a sports bra telling you to go work out."
The St. Albert woman, who began her professional modelling career at 16, has become an international celebrity online.
Her well-manicured stream of photographs and fitness tips garnered the young model thousands of fans, her own YouTube channel, magazine profiles and speaking gigs around the world.
But Gray's glossy public image was making her miserable.
Last year, on the way back from a speaking engagement in the Hamptons, she had a "terrifying" panic attack on the plane, and couldn't bring herself to take the final flight home from Toronto.
The 38-hour drive home was an eye-opener for Gray, who realized that her anxiety was tied to the unrealistic version of herself that she was sharing with the world.
The constant pressure to look perfect for photo shoots had taken its toll.
'Ignoring who I was'
"It was a very traumatic experience," Gray said of the panic attack. "I traded in four hours stuck with my thoughts for 38 of them. I had to turn inward and ask myself, 'Why are you anxious like this?'
"The result was that I was ignoring who I was for too long, and part of that was pretending to be this fitness person that I didn't really identify with at all."
It took a year before Gray was brave enough to share her new direction with her fans.
She had been posting the same kind of photos since she was 18 years old, and she knew she would be breaking certain "expectations," she said.
Even so, her account was making her feel deeply inadequate, and she didn't want to put those insecurities onto other young women.
In July, Gray, who posts under the handle of @wayofgray, told her followers that she was "sick of women being told they have to be anything other than themselves to be happy." 
She re-uploaded one of her previous fitness shots of herself in a sports bra, but scribbled over the picture and wrote new captions.
She had previously written "Nothing tastes as good as being fit", but this time wrote: "Having a six pack and thigh gap doesn't make you happy.
"Pizza and cookies are f***ing delicious."
Keeping it real
Not all of her fans were keen to hear Gray's new message.
Being vulnerable and getting to know yourself is a hard thing to do on your own, Gray said. Never mind in front of thousands of followers online.
She said she's not trying to knock the fitness industry by changing her image. 
'It's important to take care of your body, but people look at the image first," she said. "Even though that was my message, it wasn't being received."
Now, Gray's photographs often show her without makeup and messy hair. Instead of bikinis on the beach, she's shown lounging in jeans with her dog, blemishes and all. It's about showing her fans a glimpse into her "real life," she says.
Losing nearly 70,000 followers was a small price to pay for being true to herself, she added.
"I had to honour my own truth and who I am," Gray said. "People don't want to be confronted with real life. People want to go to social media to kind of forget about the experiences that we're having."
"In that way, the message hasn't been received. But for the people that have stuck with me, we've been able to have a deeper conversation which is intimately what my goal is."
Listen to Edmonton AM with host Mark Connolly, weekday mornings at CBC Radio One, 93.9 FM in Edmonton. Follow the morning crew on Twitter @EdmAMCBC