Build it and they'll ride it: Olympic glory to come for Nunavut BMX riders?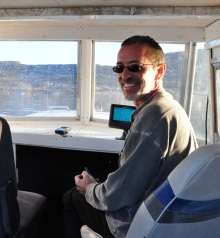 BMX riding was already big in Cape Dorset, but it's about to get a lot bigger.
Claude Constantineau, Will Sandoval and Joseph Daniel Pinguartuk volunteered most of their free time this summer moving and shaping dirt to build a BMX bike track in the Nunavut community of about 1,400 people.
The track is complete, except for a few minor adjustments to some bank and ramp angles.
Although late fall might be good trail building season in the south, it's the brink of winter in Cape Dorset, often with frigid winds and sub-zero weather. So work on the oval pump track is now finished for the season.
"We'll be doing the fine tuning in the spring," Constantineau said. "Four or five nice days and we'll be ready to go."
They did it for the youth
Constantineau said it seems like half the youth in Cape Dorset are on their BMX bikes in the summer. 
"Summer time comes and the bikes just pour out of everywhere," he said.
"Driving through town … there were always these make-shift ramps all over the road. So we thought it might be a good idea to get the youth off the street — which is a little dangerous — and give them the opportunity to experience a real world class BMX track. That's what started it … and here we are."
The project actually got off the ground last summer, taking about a year of planning to lay out a plan.
The effort was supported by the hamlet which set aside free land for the track. Local contractors lent the heavy equipment and gravel hauling trucks needed for construction.
This summer they got down to building it.
With no shortage of daylight hours in the summer, the trio often worked weekends and until midnight, "evenings, days, whatever days we could."
Constantineau thinks it might be the first track of its scale in Nunavut.
Constantineau, who describes himself as a "wannabe" rider, said this was the first track any of them had built. Online research helped them with the design, but ultimately it was trial and error and getting down in the dirt that built it.
At one point, they realized their track wasn't going to work.  
"We'd take one hill down, and another hill down and restart. Then we realized it wasn't wide enough. So half way through the summer we … tore it all apart and started over."
The track is an oval loop of about 100 metres with a start ramp, large berms, a five-metre gap jump and smaller rolling jumps that can be pumped to gain momentum.
"We did some trial runs and let's just say there were a few wipe outs," Constantineau said. 
Olympic dreams
The track is on hamlet land, and only takes up a small part of the area donated by the council.
Sandoval is Cape Dorset's recreation manager, and he says the long-term goal is twofold — to turn the area into a full-fledged public park and recreation area, and to someday build a bigger course.
"It's a great area that allows us for the potential to expand," Constantineau said. "The dream vision is to be able to put in an Olympic regulation track so the youth could train for the Olympics."
The volunteers also scrapped together cash, about $5,000 — some from their own pockets, some from a community fund — to buy bikes and helmets for an eventual Cape Dorset BMX club.
"We plowed ahead and got it done." – Claude Constantineau
The need for BMX bike track had been identified as a need in community planning dating back to 2010, but it wasn't until these community volunteers took it on themselves that it came into reality.
"We didn't want to wait around any longer to see when it would happen, that is also why we plowed ahead and got it done."
Next summer the sky's the limit. 
"We'd like to get a couple of pro riders to come up and do a workshop," Constanineau said.
"We're hoping to get enough exposure here between now and next summer for someone to call us. By next summer I'll be making my own phone calls to see if they're interested."