Tigers and Yankees smack homers and each other during brawl-filled contest at Comerica Park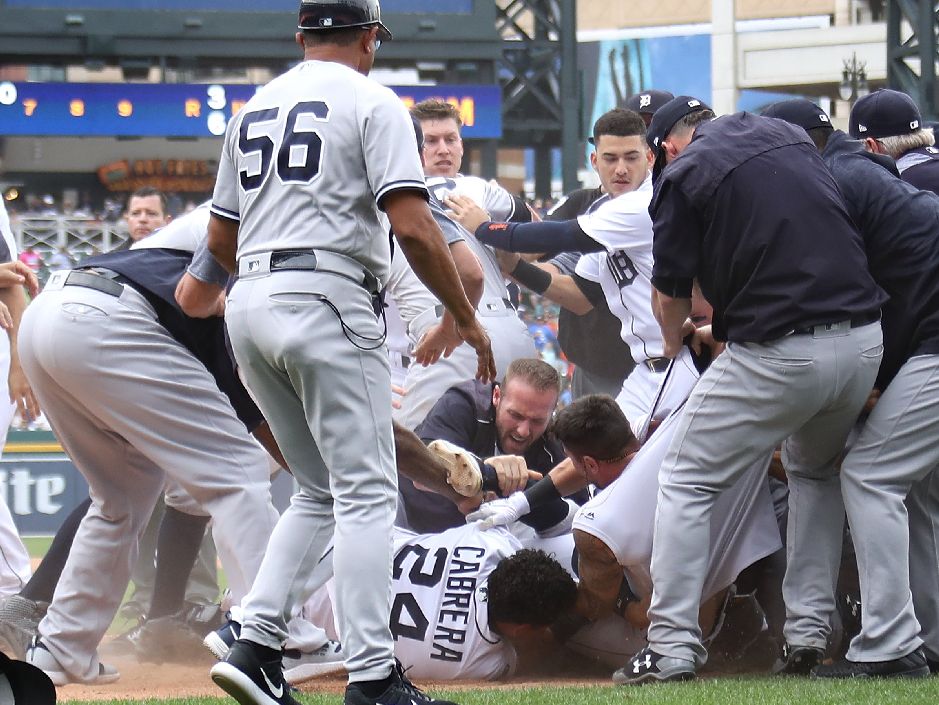 By Noah Trister
DETROIT — Tigers slugger Miguel Cabrera and Yankees catcher Austin Romine wrestled on the ground near home plate during the first of three bench-clearing altercations during Detroit's testy 10-6 victory over New York on Thursday.
Five players were ejected, along with both managers and the Yankees' bench coach.
Justin Upton and James McCann homered for Detroit, and Gary Sanchez went deep for the Yankees, but that all became secondary on a day when the umpires had their hands full trying to maintain order. Major League Baseball now figures to be busy, too, sorting out likely suspensions that could especially hurt the playoff-contending Yankees.
The winning and losing pitchers — Detroit's Alex Wilson (2-4) and New York's Dellin Betances (3-5) — were among those ejected. Betances was tossed after hitting McCann in the helmet with a 98-mph fastball. McCann did not appear to be injured and hit his home run in next at-bat.
This was the final time the Yankees and Tigers were scheduled to play this season. Last month, the teams had a game at Yankee Stadium in which four batters were hit.
The ill will this time carried over to the Detroit dugout, where veterans Justin Verlander and Victor Martinez appeared to get into some sort of dispute. Martinez had tried to play peacemaker with the Yankees while Verlander voiced his displeasure to the Yankees after McCann was hit.
Shane Greene got five outs for his fourth save.
The problems began when Detroit's Michael Fulmer hit Sanchez with a pitch in the fifth, an inning after Sanchez had homered for the fourth time in this three-game series.
Fulmer shook his pitching hand after, and he was checked by the trainer before staying in the game. Fulmer had recently been on the disabled list with a nerve problem that created numbness in his pitching hand.
New York reliever Tommy Kahnle and manager Joe Girardi were tossed after Kahnle threw a pitch behind Cabrera in the sixth. With the game about to resume, a conversation between Cabrera and Romine became heated. The New York catcher took off his mask, and Cabrera gave him a two-handed push to the chest.
Cabrera appeared to take a couple of swings at Romine, and the two ended up on the ground as players from both teams spilled onto the field. Cabrera and Romine were ejected.
An inning later, Betances hit McCann in the helmet with a pitch, causing benches to empty again. Betances and bench coach Rob Thompson were tossed then. The next pitcher, David Robertson, hit John Hicks with a pitch on the hand, although it did not trigger an ejection nor cause the benches to empty again.
Wilson and Tigers manager Brad Ausmus were ejected in the eighth after Wilson hit Todd Frazier in the thigh with a pitch. The benches cleared for a third time.