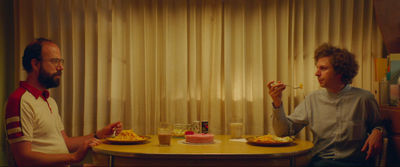 The dictionary definition of "quirky" is "characterized by peculiar or unexpected traits." But how is something "peculiar" or "unexpected"? Mid-to low-budget indie films are described as "quirky" so often that the term has lost any specific resonance. Better to be called "quirky" than "predictable," I suppose, but at a certain point, "quirkiness" becomes just as generic as the actually generic. "Lemon," a comedy directed by Janicza Bravo (with a number of short films and television episodes under her belt), and co-written by Bravo and husband Brett Gelman (who also stars in the film), has some legitimately peculiar traits, and moments that flash with true absurdity. But there's a flatness in the end-result. The quirky is utterly predictable.
Actor/acting teacher Isaac (Brett Gelman) goes through the motions of his life like a grumpy automaton. He is married to a busy career woman who also happens to be blind (Judy Greer), but the two are mainly estranged. Once upon a time, he must have been an actor of some sort (although it's very hard to picture), but now he is barely holding on. He gets a gig, but it's a commercial for adult diapers. The man lives in a constant state of humiliation and barely controlled rage. He takes out his humiliation on the students in his acting class. The acting class sequences are, far and away, the best parts of the film.
Bravo knows her stuff when it comes to acting classes. She films them at peak high drama: the black box studio, the spot-lit students working in front of the class, the tense silence as everyone waits to hear what Isaac will say. "Lemon" understands what it's like when a teacher has a clear "favorite," the one student who can do no wrong. "Lemon" also understands how disorienting it is for the "favorite" when the teacher moves his attention on to another student. Egos get increasingly fragile the more they are over-praised. "Lemon" also understands how a failed-actor teacher secretly resents the young students in his care, and subtly tries to sabotage their confidence in themselves. These are all very subtle inter-dynamics, familiar to anyone who has taken an acting class, and Bravo and Gelman get all of those details right.
The two students caught up in the web of Isaac's failed-actor dysfunction are the insufferable Alex (Michael Cera, with an Art Garfunkel mop of curls) and the beleaguered Tracy (Gillian Jacobs), shown throughout working on the famous scene in The Seagull when Nina and Konstantin reunite after Nina's time away. According to Isaac, Alex can do wrong, and Tracy can do no right. Alex says stuff like, "I've been using colors in my exploring" and Isaac nods in rapture as though it's the Pythagorean Theorem made manifest. Isaac and Alex gang up on poor Tracy and you want to tell her to find another class pronto. In these scenes, Bravo finds exactly the right tone: they are funny, observant, and hugely insightful about a very specific sub-culture (acting classes and the emotional melodramas therein).
The rest of "Lemon" struggles under the weight of its imposed tone, which is mannered, flat-affect, deadpan, ultimately oppressive, punctuated by ranks of eccentric characters, all accompanied in heavy-handed fashion in almost every scene by a score from Heather Christian. How would the film would play without the over-reliance on the music?
Isaac's life shifts, as much as it is able to shift, once he meets Cleo (Nia Long). She is a makeup artist and single mother, and he becomes instantly obsessed with her after meeting her on a photo shoot for his commercial. His obsession is understandable since Nia Long is a beautiful actress and naturally charming (almost a lost art). In her career, whether it's the television series "Empire," or "Dear White People," or the Tyler Perry film "Single Moms Club," Long brings depth of feeling to whatever she does. Why Cleo would be interested in a "Gloomy Gus" such as Isaac is a mystery, but Long makes it work because she's that's kind of actress. "Lemon" has moments where it lampoons the casual racism in the white world (when Long reveals she has a son, Isaac replies, "My sister has a black son"), as well as Isaac's fish-out-of-water attitude when he meets her family, but these potent elements never rise fully to the surface.
Isaac comes from a raucous Jewish family, where the parents (Rhea Perlman and Fred Melamed) crowd the family around the piano to sing 10 choruses of "One Million Matzo Balls." The family scenes present a murderer's row of weirdos: the checked-out sister-in-law who never speaks, the pregnant lesbian sister, the nervous-breakdown-prone family psychiatrist, the terrifying-looking twin girls in matching plaid dresses, etc. By the time this family shows up, though, "Lemon" is pretty much quirk-ed out.
"Lemon" doesn't seem to understand that it has a really interesting story woven into its fabric already: the love-hate relationship an acting teacher has with his favorite student, a student who clearly needs the praise like water needs sunlight and who falls apart once that praise is taken away. Bravo and Gelman nail those scenes. They have a disturbing clarity and focus, distinct from the rest of the film. They are accurate, brutal, and very funny. It's all there.