Kim Boutin, Samuel Girard lead incoming wave of Canadian Olympic speed-skating talent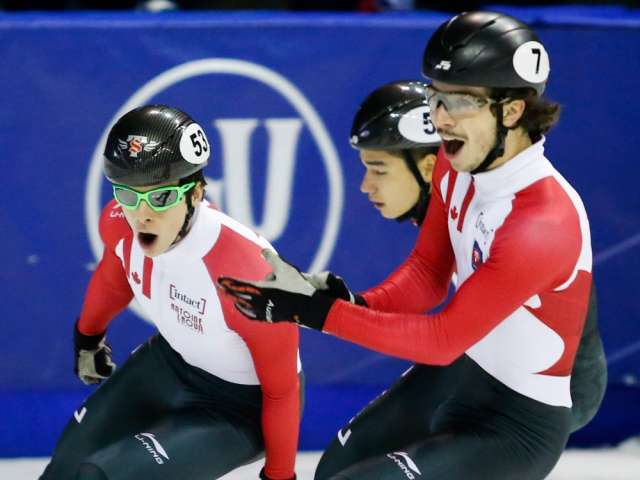 The rebuild is in full swing for Canada's short-track speed skating team, and a new wave of Olympians looks ready to contend.
Four of six skaters named to the provisional team for the Pyeongchang Games are first-time Olympians: Samuel Girard of Ferland-et-Boilleau, Que., Kim Boutin of Sherbrooke, Que., Jamie Macdonald from Fort St. James, B.C., and Kasandra Bradette of Saint-Felicien, Que.
They claimed their spots during five days of heated competition at the Olympic trials in Montreal, which wrapped up on Sunday.
"It hasn't really hit me yet it seems, but I've faced so many challenges over the years that this feels like a great accomplishment … which makes me emotional just mentioning it," said Bradette, 27.
"I've now accomplished what I thought I would never accomplish over all those years in speed skating. For a long time, the Olympics were just a distant dream for me. But these last four years, I've realized that I belonged there and that I needed to show it."
The only veterans on the squad so far are 33-year-old Charles Hamelin of Sainte-Julie, Que., who made his fourth Olympic team and will look to add to his total of four medals, and 26-year-old Charle Cournoyer of Boucherville, Que., who won a bronze at Sochi 2014 in his Games debut.
Canada's Charle Cournoyer, left, celebrates his gold medal in the men's 1000 metres at the ISU World Cup short track championships with teammate and silver medalist Samuel Girard on Nov. 6, 2016. Jeff McIntosh / CP
Another four skaters will be added to the squad when it is officially fleshed out on Aug. 30. A skater seeking a bye and a discretionary pick will be added to each of the men's and women's teams.
Likely candidates to make the women's squad are veterans Valérie Maltais and Marianne St-Gelais, who will be seeking byes from Speed Skating Canada. St-Gelais fell in training and missed the entire trials, while Maltais fell during the trials and withdrew last week. Both suffered concussion symptoms and were advised not to compete further.
Skaters have until the end of Monday to request byes. François Hamelin has already made a request, after he missed the fifth and final day of competition on Sunday due to concussion symptoms. Pascal Dion finished fourth in trials points and might have the inside track on a discretionary pick.
From start to finish of the 10-day event in Montreal, Girard and Boutin were the stars of the show, which bodes well for Speed Skating Canada. Team leaders Hamelin and St-Gelais have both declared Pyeongchang will be their final Olympics, and it appears the new wave is ready to fill the void.
Girard and Boutin clinched their Olympic berths on Saturday, a day before anyone else. Over the entire event, Boutin won eight of her nine races, including the 500- and 1,000-metres on Sunday, the final day of competition.
"After having a tough time over the last several months, the results I earned at the selections are a great relief for me," said Boutin. "The fact that I started the competition on a good note also helped me, and then I stayed focused on the task at hand, and that's what allowed me to do well."
Girard won seven of nine races overall, topping off his tour de force with a win in the 500-metres on Sunday and a second-place finish in the 1,000-metres.
"I think it hasn't really hit me yet, but the Olympics are the dream of every amateur athlete, and going there means I've reached my objective. And now, we'll go out and perform over there," said Girard.
The team's power base is obviously in Quebec. Macdonald, the only westerner on the team so far, moved to Montreal to train full time with team veterans, which paid off.
"I can't believe it for now, I'm still a little bit overwhelmed," said Macdonald. "It hasn't quite hit me. But it's incredible. We'll have a very strong team. I'm so proud of these girls. We all push each other so hard in training, and we've all worked so hard over this summer.
"It'll be an incredible experience for all of us."
Final Olympic Trials Top 10
Men
1 – Samuel Girard (Ferland-et-Boilleau, Que.)
2 – Charles Hamelin (Sainte-Julie, Que.)
3 – Charle Cournoyer (Boucherville, Que.)
4 – Pascal Dion (Montreal)
5 – François Hamelin (Sainte-Julie, Que.)
6 – Steven Dubois (Lachenaie, Que.)
7 – Guillaume Bastille (Rivière-du-Loup, Que.)
8 – Cédrik Blais (Châteauguay, Que.)
9 – Sasha Fathoullin (Calgary)
10 – Keegan Christ (Regina)
Women
1 – Kim Boutin (Sherbrooke)
2 – Jamie Macdonald (Fort St. James, B.C.)
3 – Kasandra Bradette (Saint-Félicien, Que.)
4 – Valérie Maltais (Saguenay, Que.)
5 – Audrey Phaneuf (Saint-Hyacinthe, Que.)
6 – Camille De Serres-Rainville (Montreal)
7 – Courtney Shmyr (Langley, B.C.)
8 – Alyson Charles (Montreal)
9 – Namasthée Harris-Gauthier (Montreal)
10 – Joanie Gervais (Saguenay, Que.)