As Colin Kaepernick twists in the wind, NFL players express fear of speaking out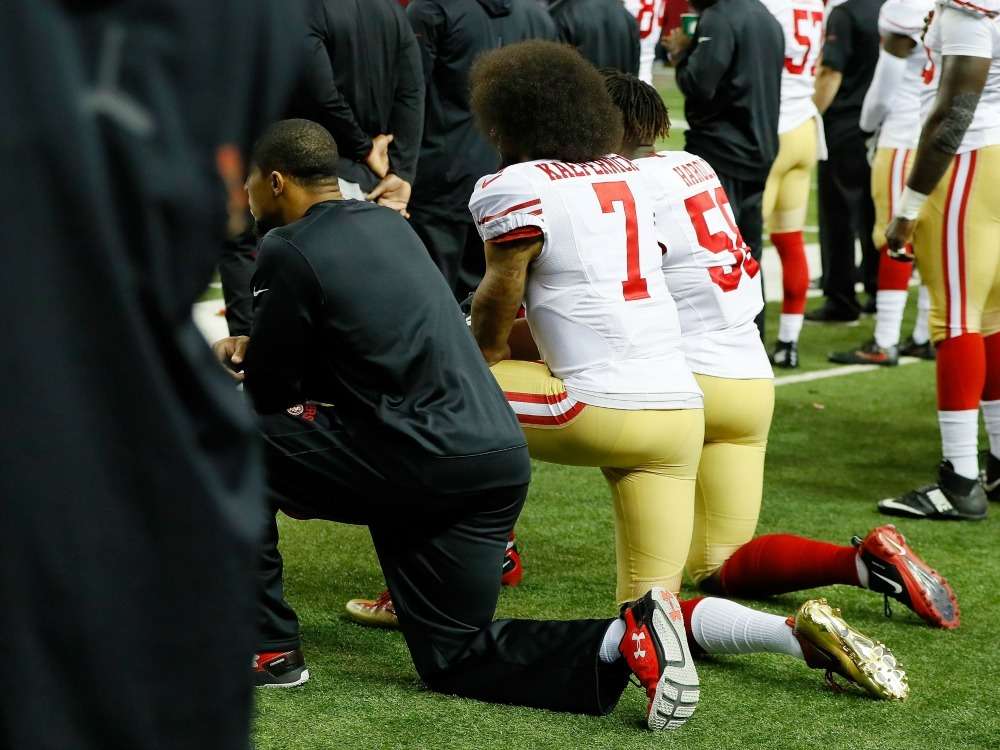 In this Dec. 18, 2016 file photo, Colin Kaepernick kneels during the national anthem before a game against the Atlanta Falcons.
Photograph by: Kevin C. Cox
By Adam Kilgore
Colin Kaepernick may not have a job in the NFL, but his influence hovered over the league all weekend, in both demonstration and inaction.
On Thursday night, Philadelphia Eagles defensive end Chris Long, who is white, stood next to black teammate Malcolm Jenkins as Jenkins thrust his fist in the air during the national anthem before their preseason game. "I think it's a good time for people that look like me to be here for people that are fighting for equality," Long said.
On Friday night, Seattle Seahawks defensive end Michael Bennett, an outspoken voice on social issues, sat for the second consecutive game during the national anthem. Seahawks tackle Justin Britt and wide receiver Jeremy Lane stood next to Bennett. In the final seconds of the anthem, defensive ends Cliff Avril and Frank Clark sat next to Bennett, who had announced he was protesting racial injustice and called for white players to join.
And on Saturday night, Oakland Raiders running back Marshawn Lynch again rested on a bench during the anthem, while quarterback Derek Carr placed his right hand on star linebacker Khalil Mack's left shoulder, not as a protest, but as a show of unity. "We wanted to show them that it's OK for a white kid and a black kid that come from two different neighbourhoods (to) grow up and love one another and be best friends," Carr said.
Those acts stood out, in part, because of how many sidelines remained devoid of anthem displays. Kaepernick remains out of a job after he spent last season kneeling during the anthem before San Francisco 49ers games in protest of police violence and killings of African Americans. It has been labeled, in turn, a blackballing of Kaepernick, a collective, uncoordinated desire of NFL management to avoid distraction and/or fan backlash. Less convincingly, it has also been called a sign of Kaepernick's dwindling skill.
In the rank and file, the reaction to Kaepernick's continued unemployment has been a combination of simmering disenchantment with the league's owners and widespread reticence to speak out regarding his circumstance. While several players have made anthem demonstrations or voiced opinions, far more have stayed out of the fray, either out of personal preference, in accordance with the NFL's behavioural codes or because they worry their job could be affected.
The Washington Post solicited views on Kaepernick's status from a dozen players on five teams last week, and all but four declined to comment. Those who spoke to The Post, along with other players across the league who have voiced opinions, largely agreed Kaepernick should not be held out of the league based on his political views and acts, and also believe his ability warrants another contract.
"It's a crazy situation," Pittsburgh Steelers defensive end Cameron Heyward said. "I don't know how teams are approaching it. But I don't understand why he doesn't have a job. If you look at his stats alone, he's better than some quarterbacks playing. That's just plain fact. I just don't get it. Hopefully, it does turn into a job. It's kind of dumbfounding when you think about it.
"Among players, we want him back in this league. I don't think anybody is trying to keep him out of the league as a player. He's a heck of a talent. He played in the Super Bowl. It's crazy to think that guy doesn't have a job."
But Heyward's sentiment, no matter how widely held across locker rooms, has infrequently been expressed. Green Bay Packers tight end Martellus Bennett, Michael's brother, said fellow players have reached out to him for advice on how to address Kaeperick's situation and other social issues. Ultimately, he said, most of them decided to stay quiet out of concern for their livelihood.
"They fear for their jobs, they fear for their well-being," Martellus Bennett said. "'Oh, I haven't been in the league enough, not established enough.' Look at what happened to Colin. He hasn't found a job. Obviously, a lot of guys feel like he should be playing in the league right now. A lot of guys feel like they can be next because a lot of guys feel like Colin was a better player than they may be and he's done more in the league than they have. So they don't want to speak up because they don't want to be on the chopping block before they feel like they made money."
Multiple Washington players said non-guaranteed contracts and tenuous job security make them reticent to share opinions on social matters, fearing potential backlash from management or the public.
"When it comes to football, you just want to do everything you can to be in compliance, right?" Washington tight end Vernon Davis said. "At the end of the day, we're here to do our job, which is to win games, right? It doesn't really matter. You could be outspoken if you want, but it doesn't really get you anywhere. If you want to be outspoken, you should probably get a job as a colour commentator. That's the way I see it. I just try to be in compliance, do my job and stay in my lane."
When the New England Patriots and Houston Texans held a set of joint practices in White Sulphur Springs, West Virginia, last week, it was not exactly a speak-your-mind forum, with one team coached by the usually guarded Bill Belichick and the other coached by former Belichick assistant Bill O'Brien. Several players declined to discuss the Kaepernick situation. Even a relative newcomer to the Patriots, wide receiver Brandin Cooks, said when asked if he had any thoughts on the situation: "Not at all."
"Just look around," Packers defensive tackle Ricky-Jean Francois said. "It shows every day why you can't talk about it. You talk about it, you're not gonna make nobody happy … We're in a place in the world where nobody gonna be happy with everything we do. So you might as well keep your mouth closed and move forward. I understand people want to stand up and do certain things, but the world we in now, only thing you can worry about is your family, yourself and make sure everything is good."
Statistically, Kaepernick's performance last season on a woeful 49ers team suggested he would have at least been signed to compete in training camp for a backup role. In 12 games, 11 of which he started, Kaepernick threw 16 touchdowns passes against four interceptions while averaging 7.2 yards per attempt with a 55.2 quarterback rating, both 23rd out of 30 qualifying quarterbacks. Pro Football Focus, a statistically driven website, graded Kaepernick the 29th-best quarterback in the NFL in 2016.
In a league starved for quarterbacks, those pedestrian numbers, especially for a 29-year-old player who's shown a higher ceiling, would typically ensure a contract. In the NFL, owners have welcomed back players who have committed egregious misconduct, including abusing women and children and beating dogs.
"It's upsetting because you want to believe in what you believe in," Heyward said. "You want to believe in freedom of speech. (Kaepernick's protest), when we have a lot of other incidents, goes noticed more than other things. It's just sad."
Kansas City Chiefs quarterback Alex Smith, whom Kaepernick replaced in San Francisco during his Super Bowl run, told The Kansas City Star it's "crazy" Kaepernick isn't on a team.
Steelers left tackle Alejandro Villanueva, a former Army Ranger who served three tours in Afghanistan, took a nuanced stance toward Kaepernick. He disagreed with Kaepernick kneeling and said he stands for the anthem not out of broad patriotism, but out of reverence to those with whom he served. But he also called Kaepernick's choice "brave" and believes the stance should not keep him out of the league.
"Does he not have a job because of his qualities, or does he not have a job because something is affecting him based on what he did last year?" Villanueva said. "I think as players, as Americans, everybody wants to believe that it is because of his abilities. I have no idea what a quarterback is supposed to do on the field. I haven't looked at his tape. I don't know the thought process behind ratings. I don't know any of those things. It would be very unfortunate if a player was trying to voice his feelings, his opinions, in a peaceful protest, and because of that he got punished. At the same time, this is also a business. There is money involved."
NFL owners have shown a penchant for reacting to public sentiment. When his team needed a quarterback in the wake of starter Joe Flacco suffering an injury, Baltimore Ravens owner Steve Biscotti solicited fans' opinions and decided, to this point, against signing him. New York Giants owner John Mara likewise said he had weighed the opinion of fans who said they would cease giving the Giants business if they signed Kaepernick.
"If I were to go to a company like Pfizer, and I voice my opinion that marijuana should be legalized because it's a much better cure than all the other pharmaceuticals the company sells, and I am affecting the sales of Pfizer, therefore the company should have the right to terminate my contract so that I continue to impede this loss of money," Villanueva said. "I don't know if it's because of that.
"If it's simply because of simply the ideological stand on violence and whatnot, then I think it's very unfair. I think that's the concern all the players have in the NFL. I don't think it should be like that. But I don't have all the answers to all the questions. I don't even know (how) he plays as a quarterback. I don't even know what system fits him. Again, I think he was very brave for taking the chance and doing something, frankly, not a lot of people would have dared to do."
On Saturday, before the Packers played Washington, Martellus Bennett posted a political cartoon he drew on his Instagram account. It depicted one player pitching products and receiving acclaim while another drew shouts of "Stick to sports!" as he raised a fist and a wore a shirt reading, "BLM," for Black Lives Matter. In a caption, Bennett dedicated the work to his brother.
"As I've been saying it seems as if 'you can use the platform provided to promote products but not to promote change to the products of your environment,'" Martellus Bennett wrote. "I've read a lot of the hate mail and comments sent to my brother as well as the ones sent to me. This illustration is how I feel about it all. Here's to those willing to risk it all to promote change."
Violence during a white supremacist rally last weekend in Charlottesville promoted more players to express their opinion. Many players said the events also led to more discussion within locker rooms about social issues.
"Guys speak up and people feel differently about it because you see things in your career and sometimes you feel like you have to make a choice: Do I speak out and say what's right, or do I hide from the truth to save my career?" Lions safety Glover Quin told the Detroit News last week. "Guys are on different levels. LeBron (James) is definitely a guy who doesn't have to worry about his career. I don't think a guy should be blackballed because he speaks about what's right. Right is right and wrong is wrong and it just is what it is. What's happening right now just isn't right."
But many are not willing to take the risk. NFL careers are fleeting, and Kaepernick's saga has shown, to the disappointment of his peers, speaking out can sometimes curtail them even further.
"I advise any young guys, just do your job," Davis said. "Sometimes, quiet is better."
With files from Mike Jones, Rick Maese and Mark Maske
Original source article: 
As Colin Kaepernick twists in the wind, NFL players express fear of speaking out