'A Tribe Called Red' DJ: standing for national anthem 'doesn't make any sense'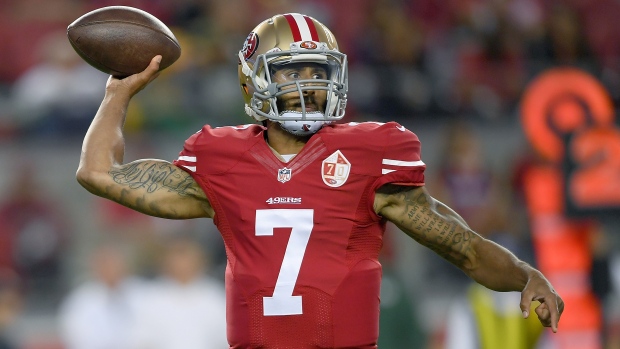 DJ  Bear Witness and producer with A Tribe Called Red, says he was never raised to stand during O Canada and to do so would be abandoning his heritage.
That's what he told On The Coast's Lisa Christiansen when asked about the actions of San Francisco 49ers quarterback Colin Kaepernick, who generated controversy by not standing during the Star-Spangled Banner to protest police treatment of African Americans in the U.S.
"It's really amazing when you see people who've already made it there say, 'OK, enough is enough,'" he said.
"I was raised not to stand for any national anthem. The way I was raised, I'm not Canadian or American. I'm Haudenosaunee. That's my citizenship … I'm from a nation that was a sovereign nation long before this country was colonized.
"To stand for a national anthem is to turn my back on a nation that isn't recognized. So to me, it doesn't make any sense."
North America 'based on exploitation' 
Bear Witness says whenever people from marginalized communities speak out about injustices they face, historical and present-day, there is always pushback.
But it's especially true in North America.
"In North America, [everything] … is based on the exploitation of Indigenous people or people of colour," he said.
"It's such the foundation that as soon as people start to come up and have a voice from those communities, you're rocking the foundation. You're calling into question the things this country is based on. And that's a really hard thing to deal with."
"I can understand that being a hard thing to deal with. I can understand the reactions people have to people taking a stand and exerting their voice like that. But I also think it's time for people to start listening."
He says he wants to feel connected to "where I am today," but maintains it's difficult when his nationality isn't recognized.
'There's a real feeling of alienation'
DJ Bear Witness says the title of A Tribe Called Red's last album, Nation to Nation, reflects a desire to start a meaningful conversation between the Indigenous and non-Indigenous peoples of North America.
He says the band sees common ground starting to form when non-Indigenous people come to its shows and enjoy Indigenous music the same way Indigenous people do.
"We're one step closer to having that conversation that's so difficult to find the space for," he said.
The band is getting set to release its third album, We are the Halluci Nation.
He says the "Halluci Nation" was an idea of Indigenous poet John Trudell, of people "remembering what it means to be a human being, and what it means to treat other people like human beings, and what it means to be connected to the earth."
He says A Tribe Called Red has achieved a better understanding of those connections as its international success has grown. and it has seen the depths of those connections with Indigenous peoples around the world.
[embedded content]
"When you're an Indigenous person living in a colonized country, there's a real feeling of alienation. There's a real feeling of being alone," he said.
"But when you get out in the rest of the world and realize there's all these people in these little pockets of the world who feel the same way, there's this feeling of community you didn't have before."
We are the Halluci Nation will be released Sept. 16.
With files from Lisa Christiansen and CBC Radio's On The Coast