What the Nazi era can teach us about deradicalizing extremists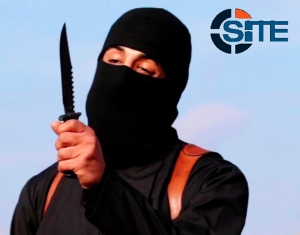 A masked, black-clad militant who has been identified as a Briton named Mohammed Emwazi or "Jihadi John" brandishes a knife in this still image from a 2014 video. (Reuters)
​
In the 1930s and 1940s, for example, Nazis and their associates systematically murdered millions, announcing that non-Aryan peoples  were subhuman.
During the Second World War, when it suddenly became imperative to create new defences against a relentless attack, Western military and civilian agencies deployed a combination of modern sociology, psychology, and technology to focus on ideological change, Kristi Cooper, an Oxford University expert in Second World War counter-ideology, said in an interview.
"It was not so much about changing minds, it was about frustrating ambitions," said Cooper. "It was providing the proper structures and incentives to offer them an alternative future."
Throughout the war, the British captured Nazi prisoners, whom they studied in detail. The British evaluated their motivations and dedication, and focused their attention on those in the grey zone, who were not too adamant about their beliefs. 
"This was the chief group whose attitudes could be easily influenced, and influence formation was the objective. These converts were then used to identify others and a key technique was the encouragement of their peers in the belief of an alternative future."
Denazification was concerned with removing those with strong Nazi views from positions of power and this ideological work was concerned with ensuring as much as possible that those useful to the British cause were identified and given positions of influence, said Cooper. 
She said the hope for reintegration into the European community was key to Germany leaving behind Nazism and transforming itself into one of the most powerful democracies in Europe.
Syrian refugees children warm themselves after a heavy snowstorm at Al-Zaatari refugee camp in Mafraq, Jordan, near the border with Syria, on Feb. 21. (Muhammad Hamed/Reuters)
​
Today, several programs are in use to combat the  ISIS messages.