Wendy Williams Sounds Off on One Direction: I Am Not Mad at Zayn Malik, But "Kick This Guy Out of the Group"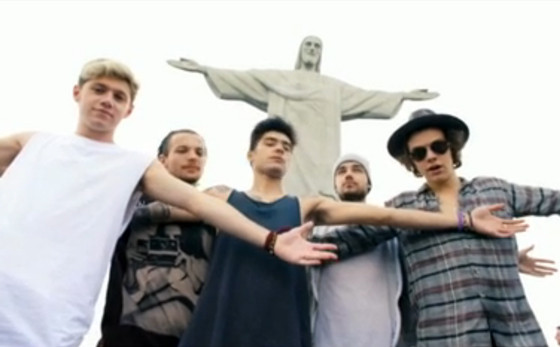 Zayn Malik may be taking a hiatus from One Direction.
But if you ask talk-show host Wendy Williams, it may be best for the boy band member to just quit the group all together.
"He's done it before. This is not his first time," she explained on Monday's Wendy Williams Show. "Here's what I think, One Direction, One Direction fans and anyone else who cares."
Oh, Directioners, you may not be ready for this idea.
"I feel as though if you can do five-part harmony, it's just as easy to do four-part harmony," she explained. "I say kick this guy out of the group because now, that's more money for the rest of us. We don't have to split our money five ways." 
PHOTOS: One Direction's wet and wild concert
For the record, One Direction's rep recently told E! News that the 22-year-old singer is taking a brief hiatus from the band's latest On the Road tour because of stress. "The band wish him well and will continue with their performances," the rep added.
But as Williams quickly explained, she's certainly not mad at Malik for taking some time off. In fact, the outspoken host is completely understanding of the situation. She does, however, not see a reason why five members is so important for the band's success.
"I admire him for standing in his own truth, which is that being a celebrity—particularly as a young person—it's a lot and all he wants to do is go back and live a normal life," she explained during her popular segment appropriately titled Hot Topics. "I appreciate people who stand in their own truths so if this is what this guy wants, kick him out of the band." 
PHOTOS: Musicians performing live onstage
Pascal Le Segretain/Getty Images
A source recently revealed to E! News exclusively that Malik isn't at odds with band members Niall Horan, Liam Payne, Harry Styles and Louis Tomlinson. In fact, he "gets on with everyone." Instead, he's just a "passionate and sensitive" guy who sometimes finds the spotlight to be a bit difficult.
For now, the band will continue with their performances in Manila and Jakarta as a four-person group, a fact Williams doesn't seem to mind.
"We don't need to audition anybody new," the HSN fashion designer added. "The other members of the group are fine. Oh God, younger people exhaust me. " 
PHOTOS: One Direction—this is them
RELATED VIDEOS:
Source:: http://ca.eonline.com/news/639286/wendy-williams-sounds-off-on-one-direction-i-am-not-mad-at-zayn-malik-but-kick-this-guy-out-of-the-group?cmpid=rss-000000-rssfeed-365-topstories&utm_source=eonline&utm_medium=rssfeeds&utm_campaign=rss_topstories