Miley Cyrus and Patrick Schwarzenegger Have PDA-Packed Date Night as Relationship Seemingly Recovers From Cabo Pics Drama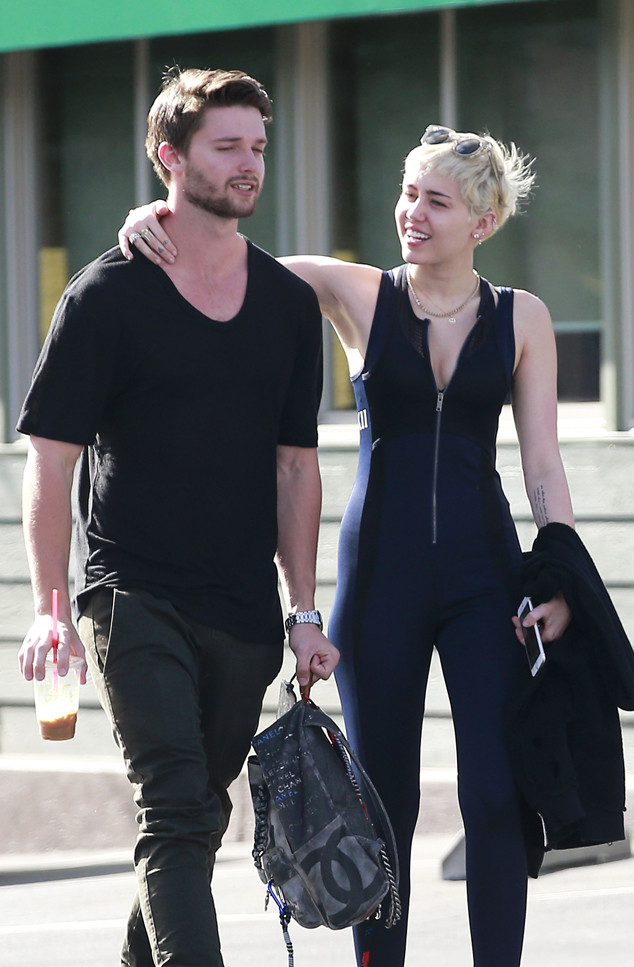 Juan Sharma/Bruja/PacificCoastNews
This must have been one of the good days.
After hitting what a source has described as a huge bump in the road with regard to their relationship, Miley Cyrus and Patrick Schwarzenegger have reunited in Los Angeles, the still-chugging-along couple spotted last night grabbing sushi for dinner at Kiwami and then going for a fro-yo night cap at a Pinkberry. They were seen kissing and holding hands. 
"There is no breakup," an insider assured E! News yesterday as speculation ran rampant as to just how much damage had been caused by Patrick's spring break trip to Cabo San Lucas.
But our other source says that the duo aren't out of the woods yet, despite Patrick's seeming assurances that he did not cheat on his girlfriend of several months.
PHOTOS: Actual Hollywood puppy love
"Miley and Patrick have not been doing well," the source said. "Some days great, others not."
Ain't that often the way…
The source notes that the "Cabo thing" could still come between them, but as of now—still together!
We're told that Patrick headed home with Miley after their date last night, and then they went off and did their own things separately today.
 A source told E! News last week, upon Patrick's return from Mexico after what pics seemingly showed to be a pretty wild trip (aka spring break), that Arnold Schwarzenegger's son was "devastated and heartbroken" to think he had caused Miley any pain.
MIAN/AKM-GSI
"He doesn't even know what to do with himself and just wants to hide from the world," the source said. "He's had some of his friends around for support, but he's very down and upset. He hasn't cracked a smile or been able to think about anything except Miley. He's so embarrassed and knows he screwed up."
Screwed up, though, as in ending up in way too many photos with scantily clad people of the opposite sex. Patrick has insisted that he didn't actually do anything.
"Would NEVER do anything against my GF….." he tweeted from Cabo on March 16. "Girls have guy friends and guys have friends that are girls…"
And Miley's got plenty of both! She took her wounded feelings to SXSW, where she hit the stage during the Mike WiLL Made-It (a onetime rumored flame) & Friends concert for a surprise performance, and then hosted a party at Omnia in Vegas before returning home to her contrite fellow. 
Posting the occasional belfie on Instagram never hurt a girl either.
PHOTOS: There's still hope! Check out Miley & Patrick's cutest pics
RELATED VIDEOS:
Source:: http://ca.eonline.com/news/639283/miley-cyrus-and-patrick-schwarzenegger-have-pda-packed-date-night-as-relationship-seemingly-recovers-from-cabo-pics-drama?cmpid=rss-000000-rssfeed-365-topstories&utm_source=eonline&utm_medium=rssfeeds&utm_campaign=rss_topstories