Trucking industry skids to a halt as oil prices fall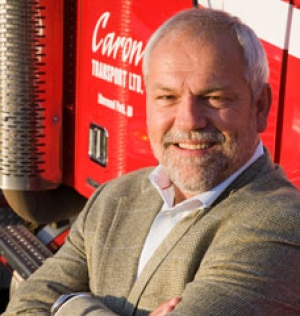 The decline in oil prices has put the brakes on much of Alberta's trucking industry.
Since June 2014, truck operators supplying Alberta's oilsands region have been facing an increasingly unstable work environment rife with layoffs, said Bruno Muller, president of Caron Transportation Systems based in Sherwood Park.
At Caron, one of the largest shipping companies in western Canada, about 20 per cent of the fleet has now been parked, he said.
"The one thing that people have to remember is oilfield service companies — in fact, the service sector period — is mostly truck drivers, so consequently, if anything's happening out there it's on a truck," Muller said Tuesday.
"I think the biggest thing that's missed by the media is the fact that there's so many trucking companies out there," he said. "A lot of them are smaller operators that don't have a lot of employees, and if they all lay off 10 per cent or 15 per cent of their people, be it drivers or mechanics or even office folks, that number becomes very significant."
Bruno Muller, the president of Caron Transportation Systems, says trucking operations are basically at a standstill in northern Alberta. (Caron Transportation Systems)
Muller said the usual spring slump in business this year hit earlier than expected.
Under normal circumstances, workers in the industry typically see a drop around the end of March — a period known as the breakup, where frost leaves the ground. A six-week "reset" is normally scheduled while equipment is pulled out of the ground.
But 2015 saw business start on a steep decline at the beginning of the year.
"It started to slow down right after Christmas," said Muller. "In fact, [business] never did really get going in January and now it's basically almost at a standstill. It's pretty well gone right off the cliff."
At present, Muller said business for most oilpatch suppliers is down between 40 and 50 per cent — with no improvement in sight.
With limited work, Muller said many companies are using the downturn as a time to restructure. At the same time, competition for remaining contracts and work is growing increasingly intense, as companies have gone into "survival mode."
Muller said drivers from out of province are the most directly affected. But the effects of the layoffs will trickle down through every related industry.
"There's a chain reaction there. It's going to be very significant, for sure. I think the problem is that nobody knows what the timeline is here for some kind of recovery in oil pricing.
"It's not like this is anything new to the Alberta economy," Muller said. "It happens when the oilpatch goes down. It has a very detrimental effect to everyone — and certainly the trucking industry is probably one of the hardest hit."
Muller said he expects the downturn to last for quite a while — but noted that when things start to improve, his industry has traditionally been one of the first to feel the upturn.
"We have to wait now until the turnaround happens."
Source:: http://www.cbc.ca/news/canada/edmonton/trucking-companies-serving-oilsands-see-business-plummet-1.3016860?cmp=rss