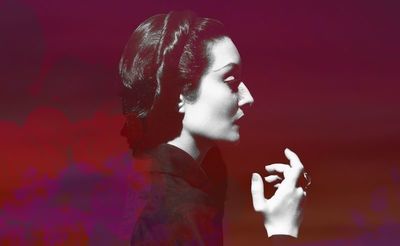 1.
"How the vampire became film's most feminist monster": An excellent essay from The Dissolve's Genevieve Valentine.
"Vampirism is a charmingly reliable metaphor for a particular brand of cinematic feminism. There's no more economical embodiment of the powerful woman as both terrifyingly predatory and soothingly seductive. Whether it's Hammer's chemised pin-ups or hyper-stylish Miriam Blaylock in 'The Hunger,' tucking desiccated conquests out of guests' sight, the vampiric woman reflects both the horror premise that a powerful woman is a direct threat—a literal bloodsucker, out for domination—and the fantasy premise that even if a woman who casts no reflection is out to kill you, she'll still take the time to look her best. And as the cultural discussions around feminism shift, so too do onscreen portrayals of vampire women. The transformative nature of vampirism, and the autonomy that comes with it, is crucial. Dracula had his captive brides, but usually, the lady vampire is an active, independent figure in her narrative; she holds the frame with that force of will. Vampirism in film is largely its own occupation—cinematic vampires are consumed with the hunt for blood, the search for love, or the nature of immortality itself. A female vampire is, by default, a career woman. She might not always be elite (as with the blue-collar vampires of 'Near Dark'), but vampirism provides her both goals and resources—a powerfully feminist combination. It also suggests freedom from prescribed sexual and social mores, a narrative pulp culture has never hesitated to explore."
2.
"We are not colonists": Gita Jackson of Boing Boing argues that "minority voices in games and tech present a necessary challenge to our imagined community."
"For decades now, companies have been selling the idea that playing video games places you in a special fraternity of people with similar interests, goals and values, even if those values are as small as 'enjoys video games.' Ads like this are designed to make Sony's customers feel like a chosen, special people, to generate a fiction of belonging that trumps everything else. In his book Imagined Communities, professor and author Benedict Anderson described this kind of broad, horizontal camaraderie as the source of nationalistic fervor, the sort of thing that makes people want to 'die for such limited imaginings.' Gatekeeping is not a new trend in games, and much of it revolves around this imagined community of players—what we think a someone who plays video games does or does not look like, and whose pictures belong on the wall. When Anna Anthropy released Dys4ia in 2013, the conversation centered around whether or not it was really 'a game' at all. Maddy Myers, the assistant games editor for Paste, had a colleague refer to her work as 'gender stuff.' Less than a month ago, the Hearthstone community was wrapped up in an 'investigation' of whether or not the player MagicAmy has a man play for her."
3.
"'Pretty Woman' at 25: 10 Reasons Why This R-rated Cinderella Still Works Its Magic": Our Susan Wloszczyna reflects on Garry Marshall's hit rom-com at Indiewire.
"2. A prince with daddy issues. Manhattan-based Edward Lewis, who is in town on business, might initially rival 'Wall Street's' Gordon Gekko as a seemingly heartless investor who buys large companies in trouble, only to dismantle them and sell divisions off like used car parts. But there is more to this sharp-dressed, snake-eyed man, who is lousy at intimate relationships, than meets the eye. For one, he only stumbles upon Vivian by the curb when he asks for directions to Beverly Hills. And he only strikes a deal with her because he just broke up with his girlfriend, who refused to accompanied him, and needs a no-strings-attached escort for the week. Edward goes out of his way to show Vivian the utmost respect and anticipates her needs, whether food or clothing. And he never acts superior. As he tells her, 'You and I are such similar creatures, Vivian. We both screw people for money.' Later, when the pair grow closer, he reveals why he is so aloof: His wealthy father ditched his mother and him when he was very young, and he has struggled with anger issues ever since."
4.
"Which 'Taken' Knockoff Is the Best? We Ranked All 14 of Them": An entertaining list from Vulture's Adam Sternbergh, featuring last year's under-seen "John Wick" in the #2 slot.
"Released last year, 'Wick' stars Keanu Reeves as the titular assassin, a quiet man who's dragged back into the mayhem business when some jackass Russian gangsters kill his dog. (The dog, it should be said, was a gift from his late wife.) Everything looks great in this movie, from the expertly choreographed fight scenes to Reeves in a series of perfectly cut bespoke suits, and Reeves is well-suited (pun intended!) to play a hit man so taciturn that he's basically a personification of lethal Zen. The film also understands, and even seems to gently parody, the obligatory mechanics of the genre: you kill man's dog; man kills you. (There's a great scene in which one gangster is informed that they've killed Wick's dog and his reaction is basically, Well, yes, okay, now we're all going to die, of course.) The film's biggest detriments are the fact that it gets less exciting as it goes along — Wick starts by coolly dispatching a whole house full of assassins, and ends with a mano a mano fistfight in the rain with a Russian gang-lord who looks about 30 years older than Wick — and the inclusion of the Continental Hotel subplot about a hotel that services only professional killers. The subplot isn't bad — it's great, and thus unfortunately nods to an even better, more interesting movie. Still, 'John Wick' is the most stylishly distinctive of the post-'Taken' action movies, and the one that, like the Continental, you'll most want to revisit."
5.
"We got it all on 'UHF': An oral history of 'Weird Al' Yankovic's cult classic": The A.V. Club's Sean O'Neal assembles an epic interview centering on Jay Levey's 1989 flop-turned-cult favorite.
"While Yankovic has headlined his own TV shows, appeared in dozens of other people's films, and crafted a showreel of comedy that would make scores of actors jealous—not to mention picking up millions of album sales and Grammys in along the way—he's been the focus of exactly one movie: 1989's 'UHF,' a legendary box-office flop that was seemingly enough to keep him from trying again, even as it became a massive cult favorite. Yankovic wrote 'UHF' with his longtime manager Jay Levey, who also directed, and their personal stamp ensured that their film was 'Weird Al' distilled. Filled with random movie parodies and song spoofs—many of which appear as the daydreams of Yankovic's goofball George Newman—and revolving around the low-budget carnival that is a local television station, 'UHF' is surreal, satirical, and slapstick in equal measure. It's also incredibly sweet, boasting a genuine affection for its underdogs—from Michael Richards' gangly janitor-turned-children's show host to Billy Barty's tiny cameraman Noodles—and it's been reciprocated by the fans who embraced 'UHF' long after it sank in theaters.In honor of the film's recent 25th anniversary, The A.V. Club is hosting two special screenings of 'UHF' with Yankovic and Levey in attendance on May 27. And in anticipation of that, we assembled nearly everyone we could find from the production to reflect on the film, including producers Gene Kirkwood and Gray Frederickson; cast members Michael Richards, David Bowe, Tony Geary, Emo Philips, Gedde Watanabe, Roger Callard, and Bob Hungerford; and, of course, Yankovic and Levey themselves. And then we asked them to tell the story of 'UHF' from beginning to end (and beyond) in their own words."
Image of the Day
Mike Ryan of Uproxx investigates "What Happens to Movie Twitter Accounts When They Die."
Video of the Day
Vox culture editor Todd VanDerWerff analyzes the use of color in "Unbreakable Kimmy Schmidt."
Source:: http://www.rogerebert.com/thumbnails/thumbnails-32315