Shailene Woodley Shows Off Her Toned Body in Elle, Says She Falls in Love With People "Based on Who They Are"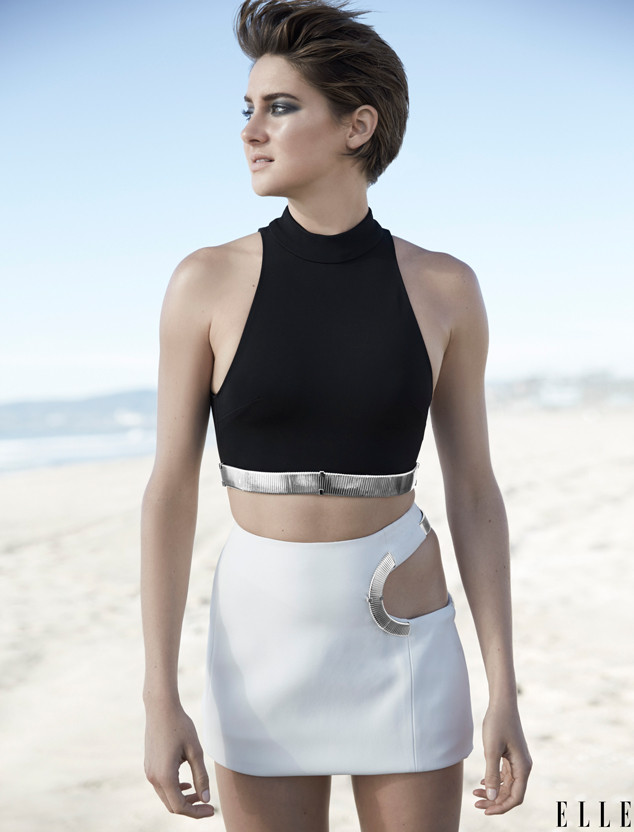 Michael Thompson for ELLE
Shailene Woodley has never looked—or felt—this happy.
The Insurgent actress shows off her toned body in a Balmain bodysuit and bra for Elle's April 2015 cover. In addition to modeling for the magazine (she also rocks a Mugler look), Woodley speaks candidly about giving her heart to people. "I'm all-loving," she shares. "I fall in love with people based on who they are."
Woodley, who is known for hugging everyone she meets, embraces people readily. "I never want to love like this," the actress says, holding her arms outstretched. "I always want to love like this." She thrusts her arms behind her back, pressing her chest forward. "Heart centered, like, 'This is who I am! And I love you if you love me for who this person is. And if not, I'll still love you, but I ain't fallin' in love with you!'"
The actress smiles when asked if she's currently in love, not wanting to reveal more.
Still, the Divergent actress explains, "When you're truly in love, for me, it's…you're my lighthouse! You're somebody who holds me high, keeps me safe, you've got my f–kin' back…You also love me whole, wild, and free. You let me do me, and I'm gonna let you do you! And I'll be the home that you return to."
VIDEO: Why Shailene Woodley isn't afraid of onscreen nudity
Michael Thompson for ELLE
Woodley, who grew up in Simi Valley, Calif., has a healthy attitude about love because of her upbringing. "I was born into a family of warriors, really strong people. It doesn't mean that it was an easy childhood and we didn't have our s–t, because every family does behind closed doors," she says. "But even though my parents are divorced, they get along. I have a family who every day strives to do the right thing."
In addition to seeking her parents' advice, Woodley's gets guidance from her grandmother.
"One day I was having one of my teenage crises, when you think everything's falling apart—your estrogen and progesterone are freaking out. And she said, 'Shai, the most important thing in life is self-love. You've gotta take care of yourself. You've got to take care of yourself, and you gotta live from your deep heart.' For some reason, her saying the words deep heart just always stuck with me. And I was like, 'Well, what is a deep heart? What does it actually mean?'" Woodley recalls. "What I've come to determine in my life is that my deep heart is my—it's my compassion, empathy and intuition. Because your intuition never wants to be mean to somebody. You intuitively know that another human being on this planet is hurting just as badly as you may be. The way that they express themselves could be rude or seen as douchey or whatnot. But maybe they're scared, or had no one there to support them."
"My Grams is the most banging 69-year-old I've ever met in my life. She's so fit. She's so rad!"
Elle is available digitally and in select cities March 17. It will be available nationwide March 24.
PHOTOS: Shailene Woodley's magazine covers
RELATED VIDEOS:
Source:: http://ca.eonline.com/news/634496/shailene-woodley-shows-off-her-toned-body-in-elle-says-she-falls-in-love-with-people-based-on-who-they-are?cmpid=rss-000000-rssfeed-365-topstories&utm_source=eonline&utm_medium=rssfeeds&utm_campaign=rss_topstories