No one will be kicked out of their homes, says PDD Minister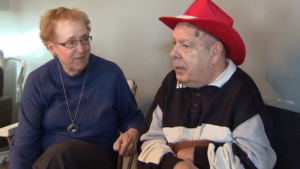 People with severe disabilities living in homes that don't meet new provincial standards will not be forced out, says the Alberta government.
It's a statement meant to assure families and care providers of people like Merlin Maciocha, 51, who lives in a home that as of Apr.1, 2015, will be considered non-compliant.
Maciocha now sleeps on the lower level of a home and uses a chair lift to get to the main floor.
According to the new provincial rules, Maciocha should, by law, be sleeping closer to a door so that he can exit the building within three minutes if there is ever an emergency. Naresh Bhardwaj, the associate minister responsible for person's with developmental disabilities said the PDD standards, soon to come into effect, enforce already-existing regulations.  
But Marie Renaud, the executive director of the LoSeCa Foundation, said they can also hurt the people they are meant to protect. She called some of the new safety requirements are "completely unreasonable."
Merlin Maciocha and his mother, Mertha Maciocha (CBC)
Renaud said the homes, condos and duplexes owned or rented by her agency must install sprinkler systems, firewalls and sometimes multiple fire exits – expensive renovations that could force some agencies to shut down and evict residents.
Bhardwaj  is now trying to reassure people like Renaud and Maciocha but at the same time he stresses public safety.
"We're not going to force anyone out of any one of the buildings," he said.
"In certain cases it is as simple as getting a bigger fire extinguisher, it's just sometimes as simple as that," he said, adding that he wants "absolutely no accidents."
Homes, duplexes and townhomes like the ones owned and rented by the LoSeCa Foundation, that supports people with disabilities, are now being inspected. As of March 3, 82 per cent of the inspections were complete with 77 per cent of the homes complying.
"The major structural changes that would be required to comply are are just not financially feasible for us," said Marie Renaud with the LoSeCa Foundation, a non-profit group that supports people with disabilities. (CBC)
Renaud provided a copy of the fire inspection of Lago Lindo four-level split home where Maciocha currently lives, saying that he should be moved to a "more suitable location to meet his life safety needs."
Renaud said she will not be able to afford to make major changes to the home where Maciocha lives and it will continue to be non-compliant.
"This is about people with disabilities having the right to choose where they live," she said.  
The government said agencies will be able to apply for a temporary extension to allow them to work with the government and inspection authorities, and if required, to help them find funding so they can comply with the new rules.
Source:: http://www.cbc.ca/news/canada/edmonton/people-with-severe-disabilities-won-t-be-kicked-out-of-non-compliant-homes-1.2991522?cmp=rss