Samsung Galaxy S6 touts curve appeal in Apple iPhone war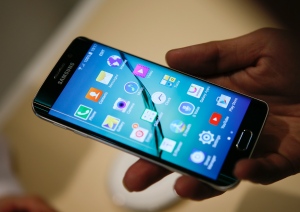 Samsung's race against Apple to dominate the world's smartphone market has included ups, downs and now — it seems — some curves.
The South Korean electronics maker unveiled its newest Galaxy S6 and S6 Edge models over the weekend, upgrading the S5's plastic body with a heftier metal-and-glass build, and announcing support for a mobile payments program.
Most conspicuously, however, was a novel 5.1-inch display on the S6 Edge that is rounded on its left and right sides.
The curved design allows users to see alerts illuminating off a flat surface, even when the device is screen-side down. Users can also colour-code specific contacts to know who's calling or texting by how the notifications flash.
Tech analysts at the Mobile World Congress in Barcelona gave glowing early reviews, noting the S6 line appears to be Samsung's attempt at a premium product that can contend with Apple's iPhone 6 and 6 Plus.
'The look' gets attention
"It is a very pretty phone," said Carolina Milanesi, who monitors consumer tech trends as chief of research with Kantar Worldpanel ComTech. "It feels like quality when you hold it, much like the iPhone. And it's different because of the curved glass."
Samsung's recent pact with Waterloo-based BlackBerry is also expected to add another layer of security to Samsung's Knox mobile security platform.
The Galaxy S6 Edge curves on the left and right sides to create side displays. (Bebeto Matthews/Associated Press)
While the promise of better security, a snappier processor, a sharper 16-megapixel camera and a more vivid display were expected advancements, what really stole the show was the Edge's aesthetics.
"At the end of the day, as much as we talk about usability, mobile ecosystems, apps, and how smart a device is, it's the look that gets the attention," said Milanesi, speaking from the mobile tech conference in Spain.
"If something is not pretty, it's hard to sell in the store."
'Apple customers are a very special breed. They love Apple, period.'- Jeff Kagan, telecommunication analyst
Curved displays offer a more immersive viewing experience, "like you're looking at an infinity pool," Milanesi explained.
She called the S6 Edge "a market statement" for Samsung, which, despite being the world's biggest phone seller, has caught flak for being a "fast follower" of Apple trends.
"What they're trying with the Edge is saying they're not just followers, they're trying to do more" to earn recognition as an innovator, she said.
High-volume maker
Samsung has long been a high-volume player that ships in bulk, particularly throughout Asia. But winning the higher-end segment has been a challenge.
"Apple will never have the kind of market share that Samsung can achieve simply because Samsung has a much broader portfolio and very different price points," Milanesi said.
JK Shin, CEO of Samsung's mobile division, showed the new Galaxy S6 and S6 Edge, during a Samsung Galaxy Unpacked 2015 event on the eve of this week's Mobile World Congress wireless show, in Barcelona, Spain, Sunday, March 1. (Manu Fernandez/Associated Press)
Jeff Kagan, an independent telecommunications consultant, believes improved battery life, which can reach a 50 per cent charge in 30 minutes, and a "fashion" component afforded by the curved glass should catch on with those looking for a top-shelf Samsung handset.
In the end, though, the cult of Apple is strong, Kagan said, and iOS diehards aren't likely to switch to a device running the Android 5.0 Lollipop operating system just to experience the novelty of a curved display.
"Apple customers are a very special breed. They love Apple, period," he said.
Mobile tech analyst Kevin Restivo suggests the new Galaxy line will simply elevate these new Samsung phones above cheaper Android-operating facsimiles rolling off production lines in China.
"The price-conscious consumer doesn't have to choose the Galaxy S6 phone," Restivo said. "Not when they can choose one of the less costly options from a Chinese player like a Coolpad or a Xiaomi, or any slew of names Canadians won't be familiar with."
'Feature parity' with iPhone
Stacked up against Apple's flagship iPhone 6, though, the Galaxy S6 phones appear to be a pound-for-pound contender on specs, said Peter Misek, a Canadian venture partner and tech expert with DN Capital.  
Apple Inc. has reported a record quarterly profit, driven by record sales of iPhone 6 and 6 Plus smartphones in the holiday shopping season and strong sales in China. (Shizuo Kambayashi/Associated Press)
​
"What Samung has done with the S6 is they've really reached feature parity" with the iPhone, said Misek, who was shown a prototype S6 Edge last year.
New hardware that ditches plastic cases, a mobile payments solution through Samsung's newly acquired startup LoopPay and improved fingerprint sensors helped close the "feature gap," he said.
Although Apple has its Apple Pay digital wallet service, LoopPay may have an edge as the mobile payment solution can work with retailers' credit card swipe readers, unlike Apple Pay.
"If you're an Android fan," Misek said, "I suspect this is going to cause you to rethink the device you're using. This is a beautiful, elegant device on the Android ecosystem that may be one of the best phones on the market."
'One of the best phone on the market'
With features such as camera quality already reaching a point of diminishing returns, Milanesi said a refocus on design can matter more to consumers than extras such as the S6's infrared heart-rate monitor.
That kind of feature would be superfluous to an Apple user anyway, she noted, "because you'll probably get the Apple Watch."
In the end, Milanesi said the Samsung release should be an interesting new device that could regain the company's lost momentum due to the underwhelming sales for the S6's predecessor, the S5.
What the new curved phone is not likely to do is take the iPhone down, she said. At least not any time soon.
"Every year, it seems some new device is supposed to be the iPhone killer," she said. "We're still waiting."
Source:: http://www.cbc.ca/news/technology/samsung-galaxy-s6-touts-curve-appeal-in-apple-iphone-war-1.2979092?cmp=rss