Iraqi forces fighting ISIS slowed by roadside bombs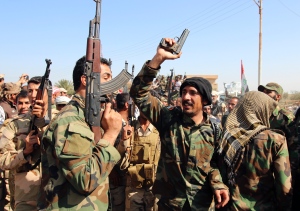 Iraqi troops and Shia militias battled the Islamic State of Iraq and Syria (ISIS) Tuesday south of the militant-held city of Tikrit, though roadside bombs and suicide attacks slowed their advance on Saddam Hussein's hometown.
The battle for Tikrit, a strategic city along the Tigris River, likely will be won or lost on allied Iraqi forces' ability to counter the extremists' bombs. Such explosives were a mainstay of al-Qaeda in Iraq, the ISIS's predecessor, as it fought American forces following their 2003 invasion of the country.
"Tikrit has been besieged from three directions, from the north, west and south, but what has remained only from the eastern side," said Brig. Gen. Saad Maan Ibrahim, an Interior Ministry spokesman. "The explosive experts were able to tackle so many bombs and car bombs."
Ibrahim offered no specifics, though previous reports suggest extremists from ISIS, which holds both a third of Iraq and neighbouring Syria in its self-declared caliphate, have littered major roadways and routes with mines. Such mines allow the extremists to slow any ground advance and require painstaking clearing operations before troops can safely move through.
Suicide bombings also aid the militants in weakening Iraqi forces and have been used extensively in its failed campaign for the Syrian border town of Kobani. Already, a militant website affiliated with ISIS has said an American jihadi carried out a suicide attack with a truck bomb on the outskirts of nearby Samarra, targeting Iraqi forces and Shia militiamen. It identified him by the nom de guerre of Abu Dawoud al-Amriki without elaborating.
On Tuesday afternoon, a suicide bomber drove a military vehicle into a checkpoint manned by government forces and Shia fighters south of Tikrit, killing four troops and wounding 12, a police officer and medical official said.
Iraqi security forces and Shia fighters chant slogans as they gather north of Baghdad on Sunday. Iraqi soldiers and pro-government Shia militias were massing in preparation for an attack on ISIS strongholds including Tikrit. (Thaier Al-Sudani/Reuters)
Tuesday marked the second day of the Iraqi advance on Tikrit, with its soldiers supported by Iranian-backed Shia militias and advisers, along with some Sunni tribal fighters who reject ISIS. Already, Iran's semi-official Fars news agency has reported that Iranian Gen. Ghasem Soleimani, the commander of the country's elite Revolutionary Guard's Quds Force, was taking part in the offensive.
Government forces, however, made little headway Tuesday, two local officials said. They said fierce clashes struck mainly outside the town of al-Dour, south of Tikrit, while government troops shelled militant bases inside the city. All officials spoke anonymously as they were not authorized to brief journalists.
Iraqi armed forces collapsed last summer
Past attempts to retake Tikrit have failed, as Iraq struggles with its armed forces, which collapsed last summer. The military operation is seen as a litmus test for the capability of Iraqi troops to dislodge the militants from major cities they conquered in the country's Sunni heartland.
Iraqi Hezbollah fighters carry the coffin of a comrade who was killed in Tikrit fighting ISIS. (Jaber al-Helo/Associated Press)
Tikrit, the provincial capital of Salahuddin province, is located 130 kilometres north of Baghdad. It was taken by ISIS along with the country's second-largest city, Mosul, during the militants' lightning advance last year across the north. Retaking Tikrit will help Iraqi forces secure a major supply link for any future operation to seize Mosul.
U.S. military officials have said a co-ordinated military mission to retake Mosul will likely begin in April or May and involve up to 25,000 Iraqi troops. But the Americans have cautioned that if the Iraqis aren't ready, the offensive could be delayed. On Monday, Iraqi and U.S. officials said the U.S.-led coalition was not involved in the Tikrit operation and had not been asked to carry out airstrikes.
Iraq is bitterly split between minority Sunnis, who were an important base of support for Saddam, and the Shia majority. Since Saddam was toppled and later executed, the Sunni minority has felt increasingly marginalized by the Shia-led government in Baghdad. In 2006, long-running tensions boiled over into sectarian violence that claimed tens of thousands of lives.
ISIS tapped into that Sunni resentment, though Prime Minister Haider al-Abadi, a Shia, has offered an amnesty for insurgents who abandon the extremists. His comments appeared to be targeting former members of Iraq's outlawed Baath party, loyalists to Saddam.
Source:: http://www.cbc.ca/news/world/iraqi-forces-fighting-isis-slowed-by-roadside-bombs-1.2979544?cmp=rss