Organic food products recalled due to salmonella threat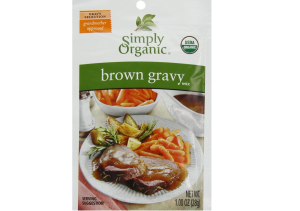 Keep an eye out for these items in the grocery store or kitchen cupboard.
The Canadian Food Inspection Agency (CFIA) is recalling a number of products from the Simply Organic and Frontier brands due to possible salmonella contamination, and the garlic powder they were made with is the culprit.
The CFIA issued a release late Tuesday saying the products have been sold nationally and online.
Several products from the Simply Organic and Frontier brands were recalled this week. (Simply Organic)
"Food contaminated with salmonella may not look or smell spoiled, but can still make you sick," the agency warned.
"Young children, pregnant women, the elderly and people with weakened immune systems may contract serious and sometimes deadly infections."
Frontier Co-op, which is based in Iowa and owns the Simply and Frontier lines, voluntarily initiated the recall on Monday.
In a release from the U.S. Food and Drug Administration, the company states that all the products were made with organic garlic powder. The raw material tested positive for salmonella during a USDA test. 
No illnesses are yet associated with the possible contamination. 
Below is the full list of items recalled in Canada. For more information relating to product codes and sizes, follow the external link at the side of the page to the release on the CFIA's website.
Simply Organic
Vegetarian chili seasoning
Spicy chili seasoning
Ranch dip mix
Ranch dressing mix
French onion dip mix
Guacamole dip mix
Creamy dill dip mix
Fajita seasoning
Sweet basil pesto mix
Vegetarian brown gravy mix
Fish taco seasoning
Classic Caesar dressing mix
Frontier
Powdered Garlic
Low-sodium broth powder, vegetable flavoured 
Vegetable broth powder, no-chicken
Onion soup and dip mix
Source:: http://www.cbc.ca/news/canada/saskatchewan/organic-food-products-recalled-due-to-salmonella-threat-1.2999901?cmp=rss