Ontario withdraws charges against homeless woman who built her own cabin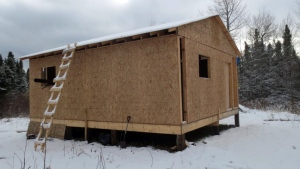 Darlene Necan, a homeless woman from northern Ontario, plans to move into the cabin she built herself after the provincial government withdrew its charges against her in court today.
The First Nations woman was facing charges from the Ministry of Natural Resources and Forestry for breaching the Public Lands Act and was facing more than $10,000 in fines after constructing a one-room cabin on Crown land where her parents once lived in Savant Lake, Ont.
But when Necan opted to go to trial rather than pay the fines, the government dropped the charges, 18 months after they were first laid.
"The Crown is of the view that it is not in the public interest to proceed with these charges," Crown counsel Scott Dunsmuir wrote in a letter to Necan's lawyer on March 17. "In this case the public expense of a lengthy trial does not appear to be justified when weighed against the gravity of the offence."
The one-room cabin has no heat and no running water, but Necan says she's proud to call it home. (Two Row Times)
Necan said the decision means she'll finally have a home.
"I am happy, said Necan. "This means a lot to me, because I'll be going home to where I grew up. I'll be going home to never be kicked out for any reason."
Housing shortage on reserve
Necan is a member of the Ojibway Nation of Saugeen, but she has been unable to acquire housing in that community, about 400 kilometres northwest of Thunder Bay, since the reserve was created in the late 1990s. 
The 55-year-old spent years camping out when it was warm enough and sleeping on relatives' couches during the winters, dreaming of a place of her own.
In 2012, Necan and a few others who are also unable to acquire housing on the reserve helped build a cabin for an elder who was living in a chicken coop in Savant Lake. The following year, using donated materials, she started building her own plywood structure nearby.
The government has not issued Necan a permit for her house, a typical requirement on Crown land, but her lawyer Michael Leitold said that after the withdrawal of the charges she's free to move in.
It's not a precedent-setting case, because it never made it to trial, but Leitold said Necan's unwillingness to be pushed out of her own homelands is a good example for others.
"Politically and socially, I think we can all draw a lesson from the fact that grassroots organizing and grassroots efforts to try and achieve small victories can succeed," he said. "I hope that inspires others to take a stand against colonialism and oppression."
Source:: http://www.cbc.ca/news/canada/thunder-bay/ontario-withdraws-charges-against-homeless-woman-who-built-her-own-cabin-1.3001523?cmp=rss