Monica Lewinsky Slams Cyberbullying, Recalls Her Own Public Humiliation: "I Was Branded as a Tramp, Tart, Slut, Whore"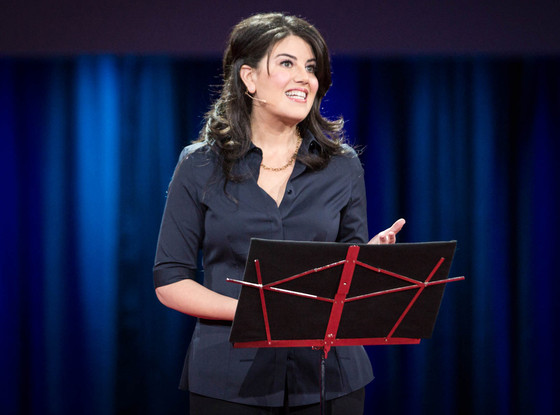 James Duncan Davidson/TED
Monica Lewinsky got very candid earlier today while talking about the aftermath of her 1998 sex scandal with President Bill Clinton.
"At the age of 22, I fell in love with my boss. At the age of 24, I learned the devastating consequences," the 41-year-old said during a Ted Talk in Vancouver Thursday. "Who didn't make a mistake at 22?"
"Not a day goes by that I am not reminded of my mistake, and I regret that mistake deeply," she continued. "In 1998, after having been swept up in an improbable romance, I was then swept up into the eye of a political, legal and media maelstrom like we had never seen before."
"Now I admit I made mistakes—especially wearing that beret—but the attention and judgment that I received—not the story, but that I personally received—was unprecedented," Lewinsky went on. "I was branded as a tramp, tart, slut, whore, bimbo and, of course, 'that woman.' I was known by many, but actually known by few. I get it. It was easy to forget 'that woman' was dimensional and had a soul."
PICS: Stars meet the president
Lewinsky likened her own public humiliation to the hurtful torment millions of people experience on the Internet and through social media today.
"In 1998, I lost my reputation and my dignity…I lost my sense of self. When this happened to me, 17 years ago, there was no name for it. Now we call it cyberbullying," she professed. "For nearly two decades now, we have slowly been sowing the seeds of shame and public humiliation in our cultural soil. Gossip websites, paparazzi, reality programming, politics, news outlets and sometimes hackers traffic in shame."
"Public humiliation as a blood sport has to stop. We need to return to a long-held value of compassion and empathy," Lewinsky concluded. "Anyone who is suffering from shame and public humiliation needs to know one thing: You can survive it. I know it's hard. It may no be painless, quick or easy, but you can on insist on a different ending to your story."
PHOTOS: Biggest political scandals
RELATED VIDEOS:
Source:: http://ca.eonline.com/news/637754/monica-lewinsky-slams-cyberbullying-recalls-her-own-public-humiliation-i-was-branded-as-a-tramp-tart-slut-whore?cmpid=rss-000000-rssfeed-365-topstories&utm_source=eonline&utm_medium=rssfeeds&utm_campaign=rss_topstories