NeNe Leakes and Kim Zolciak on Ditching Real Housewives "Monsters" for New Show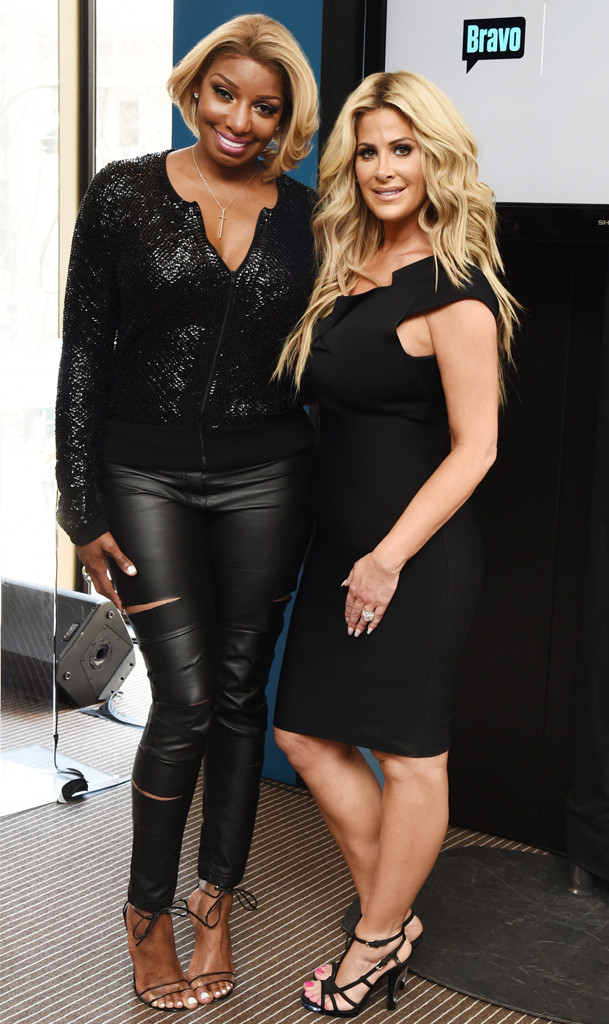 Ilya Savenok/NBCUniversal Cable Entertainment
Bloop! NeNe Leakes and Kim Zolciak Biermann are hitting the road for a new reality show. Yep, it's NeNe and Kim are taking a road trip with cameras in town for NeNe and Kim: The Road to Riches. The Atlanta ladies are heading to Los Angeles for the new show and to say they're excited is an understatement.
"Well, one of the things I'm most excited about is working with Kim, just the two of us," NeNe told E! News after her show was announced at Bravo, Oxygen and Esquire's Upfront presentation in New York. "I just left Housewives where I was working with like, six monsters."
Kim and NeNe costarred on Bravo's The Real Housewives of Atlanta for five seasons where they had their fair share of ups and downs, but they're now in a good place. "Working on a show like [Real Housewives] tears friendships apart," NeNe said. "It's hard."
MORE: Get the details on NeNe and Kim's new show
"It will be good not having anyone interfering with NeNe and I. We're back to we started twelve years ago, no other noise," Kim told us. "No other people talking nonsense. It will just be her and I and we have a really good time."
"There won't be other people chiming in," NeNe added.
The two women are also getting a new title with the show: executive producers.
"I think it's great," Kim said. She then asked NeNe, "You were an executive producer on your wedding show, right?"
"Yes, which was good and bad. You know I like to change everything. I would be like 'don't give me that angle,' and they'd be like, 'Uh uh girl, you don't have that kind of control,'" NeNe replied.
MORE: Kim's best social media pics
For both NeNe and Kim, the show is a chance to have a break from the Real Housewives drama and the family.
"Enough is enough," Kim said of Real Housewives drama. "People get tired of watching the drama. Like, I love my life, she loves her life, we've both been very successful. We're just going to have fun. It will be good for me to get away, all the kiddos, get a break."
So what can viewers expect from the new show? Drama and lots of wigs! "I'm sure Kim and I will die. Like, Kim's going to want to walk down the stairs and I'm going to want to take the elevator," NeNe said.
"And she's going to want to wear my wig and I'm going to want to wear hers. But we had drama before Housewives. We got into little arguments but we always worked it out," Kim said.
"With friends, you have disagreements. I just don't want us to ever go so far that we can't come back," NeNe said.
"I don't think that will happen," Kim replied. "Honestly, I don't because you don't have anyone else fueling the fire."
NeNe and Kim: The Road to Riches doesn't have a premiere date yet.
—Reporting by Beth Sobol
(E! and Bravo are both part of the NBCUniversal family.)
PHOTOS: Ranking all of the Real Housewives fights 
RELATED VIDEOS:
Source:: http://ca.eonline.com/news/641429/nene-leakes-and-kim-zolciak-on-ditching-real-housewives-monsters-for-new-show?cmpid=rss-000000-rssfeed-365-topstories&utm_source=eonline&utm_medium=rssfeeds&utm_campaign=rss_topstories