Mayerthorpe remembers fallen Mounties 'who stand proudly in our hearts'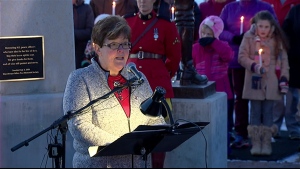 Like they have done every year for the past ten years, people gathered in Mayerthorpe and lit candles, bringing light to the dark memories of March 3, 2005 when four RCMP constables were shot and killed.
Knit tightly together in a circle, about 200 people held candles, shoulder-to-shoulder, bracing themselves from the cold on Tuesday night.
Their circle embraced the statues of Constables Brock Myrol, 29, Leo Johnston, 32, Peter Schiemann, 25, and Anthony Gordon, 28 who were shot and killed by James Roszko while investigating a marijuana grow operation and chop shop just outside of town.
Margaret Thibault, president of the Fallen Four Memorial Society spoke at Tuesday's service. (CBC)
​"You now carry a piece of that flame," said Margaret Thibault, president of the Fallen Four Memorial Society, referring to the candles lighting up the circle.
"For those whose flame was extinguished but who stand proudly in our hearts," she added, her voice faltering, the tragedy of March 3rd still rising up in her voice.
Like many at Tuesday night's gathering, Thibault knew the officers killed in Mayerthorpe.
Janine White and her four children drove for three hours to lay roses at the Fallen Four Memorial. (CBC)
Janine White didn't know them, but felt it was important to drive three hours with her four children to the memorial on Tuesday. She helped her children lay roses at the feet of the statues. 
"These guys leave their house everyday not knowing if they're going to make it home," said White. "These guys didn't. They deserve a flower."
A group of students who 10 years ago as small children performed Love Can Build a Bridge by The Judds at a memorial for the fallen officers were back again. This time, they where they were joined by a new generation of Grade 1 students.
One of the flowers laid at the feet of the fallen four statues in Mayerthorpe on Tuesday. (CBC)
​"Ten years ago … these little people were so innocent and so wonderful, and such a  promise of a future — and were just untarnished … to me, that was the real moment where we knew we were going to survive," said Thibault.
"And now, 10 years later, they're in Grade 11 and are coming back tonight to do the same thing," she said. "It just shows how life goes on."
"It's a powerful message again, it never stops being powerful," Thibault said.
As the sun set, RCMP Deputy Commissioner Marianne Ryan read the names of those who have died while in the line of service across Canada over the past year, including the three RCMP officers in Moncton as well as Const. David Wynn, who was shot in St. Albert in January of this year.
"No matter how well prepared we are, sometimes we can't prevent tragedy and that's the reality," said Ryan after the service. 
A painting of the park, featuring the Fallen Four monument was also unveiled. The painting will hang inside a nearby building, where it will be joined by the hundreds of other tributes that have poured in from across the country and around the world since 2005.
Source:: http://www.cbc.ca/news/canada/edmonton/mayerthorpe-remembers-mounties-killed-10-years-ago-1.2980848?cmp=rss