Kelly Clarkson Admits It's Impossible to Sing Her Daughter River Rose to Sleep: "She Just Stares at Me!"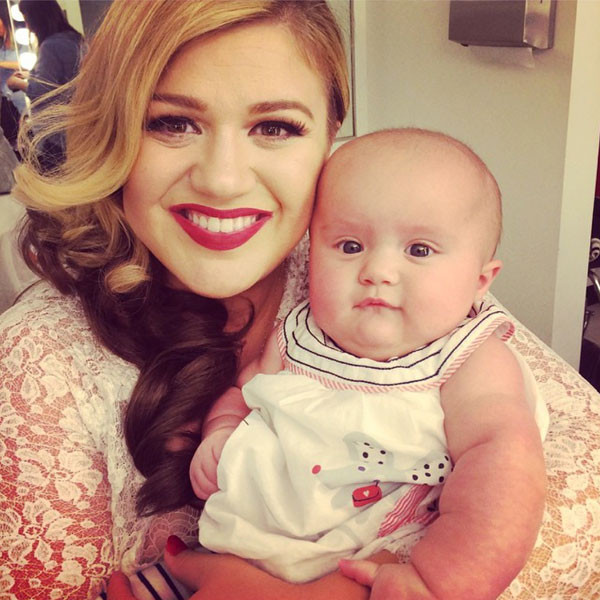 Instagram
Lullabies are lovely, but they don't always do the trick.
Kelly Clarkson has called her daughter River Rose "the happiest baby on the planet," but the American Idol winner's 8-month-old mini-me can be difficult at times, too. Case in point: the three-time Grammy Award winner has tried and failed to sing her baby to sleep. "It's funny, because you'd think singing to her would put her to bed. Nope. Even when she was a newborn, I'd try to sing to her, and she doesn't go to sleep. She just stares at me," Clarkson says in Entertainment Weekly's March 6 issue, on stands now.
Clarkson doesn't sing her own hits, like "Miss Independent," "Since U Been Gone" or "Catch My Breath."
"The only one I sing is 'Heartbeat Song,' because she loves it. The chorus hits, and she is all smiles," the singer says. "Other than that, I've sung Lana Del Rey to her, and Frank Sinatra—a lot of random stuff."
Regardless, Clarkson sings to her daughter "all the time," joking, "She's probably going to hate music!"
NEWS: Kelly Clarkson's daughter gets dressed up to meet Jimmy Fallon!
Unlike her fans, Clarkson admits it's hard to listen to her own music to help her get through tough times. "By the time my music comes out, I've listened to it so much for mixing, I'm ready to vomit," she says in jest. Instead, the "Behind These Hazel Eyes" singer tells the magazine, "I love Tove Lo. I still love Jagged Little Pill by Alanis Morissette. I love Joni Mitchell. There are all these different records that I put on."
Clarkson will take her new songs from Piece by Piece on the road this summer. Is there anything else she wants to accomplish in 2015? "I'm excited about working. I haven't really worked in a little bit," she says. "And I know this sounds like the not coolest, most rock and roll answer, but I really want to be a good mom. I read everything I can and do everything I can do to mold this little life that's been given to me."
For more from Clarkson's interview, pick up Entertainment Weekly's March 6 issue, on stands now.
PHOTOS: River Rose's baby album
RELATED VIDEOS:
Source:: http://ca.eonline.com/news/631847/kelly-clarkson-admits-it-s-impossible-to-sing-her-daughter-river-rose-to-sleep-she-just-stares-at-me?cmpid=rss-000000-rssfeed-365-topstories&utm_source=eonline&utm_medium=rssfeeds&utm_campaign=rss_topstories