"Life Itself" Opens in Mexico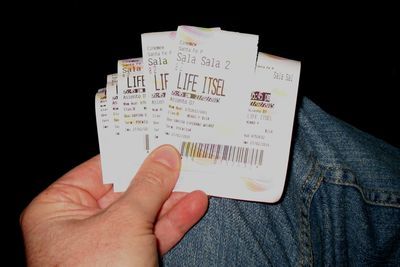 When Steve James' "Life Itself" debuted via streamline video in early 2014, I tried to watch it as many times as possible, fearing that might well represent my only chance to experience it in a while. Would it ever make it to Mexico in any form? Movie openings can be rather unpredictable down here. Big box office and/or superhero movies usually arrive in dozens of theaters on a same day basis with the US but prestigious and/or smaller ones can be held in limbo indefinitely. Take for instance the case of "Young Adult" (2011), which was scheduled for a post-Oscar opening for months, but when Charlize Theron failed to receive her expected Best Actress nomination, the film vanished without a trace. That "Life Itself" (unbelievably) wasn't nominated for Best Documentary surely didn't help its chances, but, as I once shared with Roger in one of our Far Flung Correspondent panels, Mexican audiences will flock to see movies on any imaginable subject. It's hard to come up with any time when I've received as much good will as the day when he passed, and that was mostly from people who I didn't even know were aware that I knew him. More importantly, when first watching "Life Itself," it was rather obvious how this is a film of interest for just about anyone. As someone we know would have said: "it's not what the movie was about but how it was about it".
So here we are a year later, and, happily, "Life Itself" opened this week on a half a dozen screens here in Mexico City in as well as at the Cineteca Nacional (the National Film Library). Even though my DVD copy is already on the way, I was eager to see it again on the big screen and for good reason. A chance viewing in Ohio last summer taught me that "Life Itself" is one of those unique communal experiences that's simply not the same when viewed at home. And so last Friday afternoon, I took several family members to the multiplex on what was mostly a great viewing experience, albeit the fact that the documentary was projected in one of those VIP theaters where the seats are large and spread far between, making it harder to gauge other people's reactions.
Mexican crowds can occasionally be tough on the most unexpected features. Just last month I witnessed more than half an audience progressively abandon the theater during a screening of the much-praised "Boyhood" (2014) (the same thing happened with "Nebraska" last year). I would thus say that "Life Itself" was given the highest praise by them: everyone sat firmly in their seats and no cell phones popped out at any time, something that is almost unimaginable these days. The one image in the movie that got the biggest response was clearly that of Gene and Roger's drawing evoking Laurel and Hardy, which tells you something about the universality of those characters. My parents were especially touched by Chaz's devotion to Roger and his continuing enthusiasm in the face of dire health, the kinds of comments we have heard many times during the last year and they explain why the movie works so well: it is as much about courage and loyalty as it is about the life of a movie critic.
"Life Itself" has been reviewed many times before (including by several writers on this very site). Personally I'll just say how much I appreciated the fact that it does take a good deal of material from Roger's autobiography including his family roots, his relationships with the many colorful characters interviewed here, his drinking days, his rise as a newspaperman and his mostly unplanned & unexpected TV success. The film conveys the origins of Roger's enormous writing skills, the impact that some pictures (from his "Great Movies" compilations) had on him, and even the intricacies of his famous film dissection classes ("Would you want to listen to you?!?"). The most memorable line in the movie is perhaps the "F….Pauline Kael" bit by newsman Rick Kogan but my favorite is his own description of "Siskel & Ebert" as something "Dr. Frankenstein couldn't have come up with" when describing the relationship of these two giants of the medium who became the definitive odd couple, propelling in the process the careers of people like Martin Scorsese, Ramin Bahrani and Errol Morris. Steve James had the great wisdom to depict the parallels between Gene's and Roger's diseases (one of the main factors behind the movie's great resonance) and encompassed it with Roger's relationship with Chaz, described by his friend Bill Nack as even more relevant to him than the TV show, and something that Roger once called "the great fact" of life.
Steve James' achievement reminds me of Gene Siskel's comments when choosing "Raging Bull" as the best film of the 1980s: once you've watched this film, you more or less got to know everything there is to know about its subject, even when considering that the director had to do without such topics we associate Roger such as his love for Steak n" Shake, the Ebertfest film festival, and even his relationship with second TV partner Richard Roeper. The latter was certainly relevant enough but impossible to match Siskel's in importance since it came about in a much more agreeable and easy-going fashion. These exclusions are painful but reasonable and would have played well on a four-hour director's cut for hardcore Ebert fans. "Life Itself" is a great example of the pains of sacrificing what seems like the right material for the sake of creating a better movie. What's most amazing to me is how a film this good required the public's help to finish what is basically a low-budget feature that is as absorbing, emotive and as entertaining a motion picture as any that opened in 2014, and infinitely better than some blockbusters that cost as much as 200 times more.
James' original plan was simply to film a year in the life of Roger but fate led him on a very different path, with Roger's last days in the hospital serving as a starting point for traveling back in time via flashbacks. Upon first learning that his autobiography was going to be turned into a film, I remember writing to Roger and wishing him that someday he would be able to attend a screening of "Life Itself" at Ebertfest surrounded by his loved ones; his sole reply was "Wouldn't that be wonderful?" This, of course, would have been the scenario we all longed for, and yet I remember that when a fellow FFC mentioned having spotted Steve James filming the funeral, I mentioned how much I hated for that to become the ending of this documentary; his answer was simply "that's just the way of life." This is just one of the reasons why its title fits "Life Itself" so well. I particularly empathized with Roger's friend Bruce Eliott at the end of the movie as he's shown teary-eyed on the day of his passing. How many people have ended up making more grown men cry than Roger?
Source:: http://www.rogerebert.com/life-itself/life-itself-opens-in-mexico