Ubisoft offers new video game it says can treat lazy eye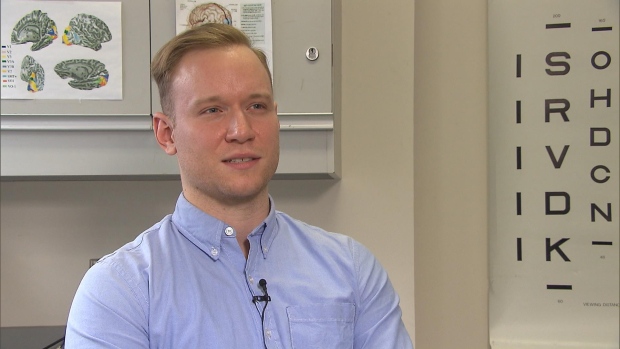 The Montreal-based gaming company Ubisoft has developed a video game it says could be used to treat amblyopia, also known as lazy eye.
Amblyopia is a condition in children where vision in one eye does not develop properly. If not treated early, the vision problems in the eye can become permanent. Correcting the eye later in life does not restore the lost vision.
Ubisoft developed the game Dig Rush over two years. The company says it's the first video game based on a patented method for the treatment of amblyopia.
Treatment for the condition usually involves a child wearing an eye patch. But children were more likely to abandon the treatment because of the stigma of wearing an eye patch.
"We wanted the people to play a game," said Ubisoft senior producer Mathieu Ferland. "And in the end, they're receiving a treatment. They're kind of forgetting it's a treatment."
Ubisoft developed the game in collaboration with researchers from McGill University and Amblyotech, an Atlanta, Ga.-based company that develops therapies for eye diseases.
Game meant to be engaging
Ferland said the game involves controlling moles on the tablet screen. The moles are digging for gold in mines.
The treatment involves training both eyes, not just the weak eye, by using different levels of contrast of red and blue that the patient sees using stereoscopic glasses.
'It was really neat to see week by week I'd come in and see results and improvement'- Daniel Doyon, patient
Using this method, the physician can adjust the game's settings in accordance with the patient's specific condition.
Ferland said he tried to make the game as engaging as possible to encourage patients to play it every day, comparing it to a prescription medication that someone needs to take everyday.  
"You stop taking your medication for a few days and this may have an impact on the efficacy of your treatment," said Ferland. "Think of it as pills, but those are intelligent pills."
Daniel Doyon says he noticed improvements in his depth perception after completing the six-month clinical trial. (CBC)
Daniel Doyon participated in the clinical tests for Dig Rush. He said he noticed a big difference in his recreational volleyball games after finishing the treatment.
"When I was passing the ball, I noticed that I had just a better grasp of depth perception," said Doyon. "My passes were immediately, after the six-week treatment, more accurate."
"It worked for me," said Doyon. "It's super easy. It's an hour a day over the span of six weeks, and you're cured. It was really neat to see week by week. I'd come in and see results and improvement."
Amblyotech will be seeking clearance from the Food and Drug Administration in the United states to market this therapy. The company says it will look to receive approval from Health Canada once Dig Rush has been approved by the FDA.
Source:: http://www.cbc.ca/news/canada/montreal/ubisoft-has-new-video-game-designed-to-treat-lazy-eye-1.2979850?cmp=rss