Kim Kardashian Feels "Insecure" Surrounded by Supermodels at Paris Fashion Week—See the Pics!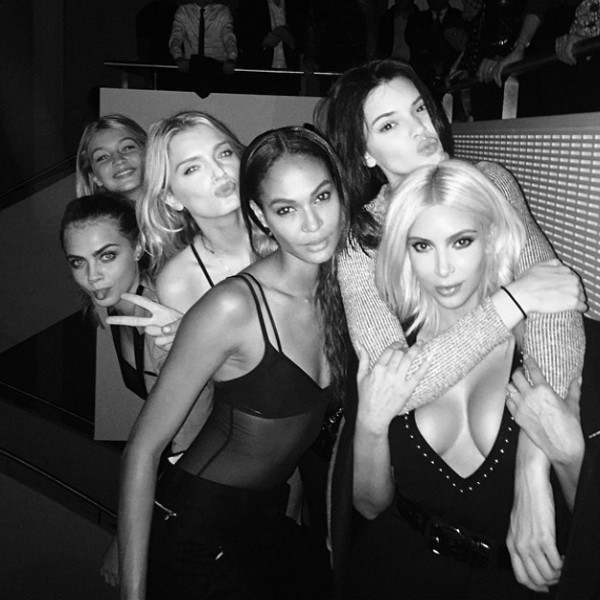 Instagram
Kim Kardashian's curves are famous around the world, but guess what, dolls? Even she feels a little "insecure" hanging out with a gaggle of girls 10 years younger and 10 inches taller than her!
This was the case Wednesday at a Paris Fashion Week event, when the cleavage-baring Keeping Up With the Kardashians star posed for some pics alongside Kendall Jenner, Joan Smalls, Lily Donaldson, Gigi Hadid and Cara Delevingne. She posted several of the sexy photos to Instagram, joking at one point, "Not insecure at all standing next to these super models."
Kanye West later joined in on the fun, posing for a single snap with his wife and her lovely lady friends. And even though the rapper faced away from the camera, he didn't seem intimated at all to be in the company of these women. In fact, he dominated the pic, which Kim captioned simply, "All Ye."
NEWS: Why Kim Kardashian was missing from Kendall Jenner's Chanel show in Paris
Instagram
North West's mama might not be quite as outspoken as Yeezus about her confidence, but she has a solid perspective on things. Her bombshell body is often discussed and analyzed by the media, and she's been quite public about her previous weight loss struggles. Ultimately, though, Kim's dad Robert Kardashian helped her realize long ago what it is that really matters.
"When I was 13 my father wrote me a letter," she told Elle U.K. last year. "I was unhappy with my body–I developed really early. Every night I would sit in the bath and cry, I prayed my boobs would stop growing. He told me I had a body not many girls have, that later it would lead to attention from men, but that the most important thing was that I was a wonderful girl and I had to understand my self worth."
PHOTO: Kim Kardashian's platinum blond hair already needs its first touch-up
Instagram
"It's taken me a long time to be happy with my body and for my confidence to grow to what it is today," she admitted. "I grew up when the body to have was the tall, slim, supermodel one, like Cindy Crawford's. No one looked like me. It's good to break the mould and recreate one."
"I am a confident woman," she added, "but I didn't just arrive confident–it has built over the years and that is a big part of who I am now."
 Keeping Up With the Kardashians Season 10 premieres March 15 at 9 p.m., only on E!
PHOTOS: Kim Kardashian's mommy style
RELATED VIDEOS:
Source:: http://ca.eonline.com/news/634411/kim-kardashian-feels-insecure-surrounded-by-supermodels-at-paris-fashion-week-see-the-pics?cmpid=rss-000000-rssfeed-365-topstories&utm_source=eonline&utm_medium=rssfeeds&utm_campaign=rss_topstories