Amal Clooney Wows in Sexy Cutout Dress as She Supports Hubby George—See the Pic!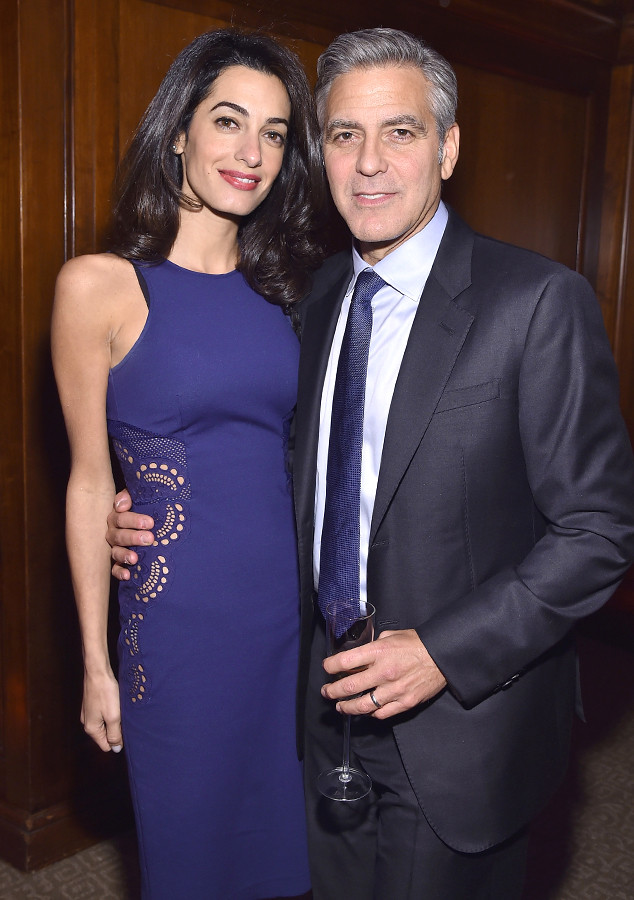 Mike Coppola/Getty Images for 100 LIVES
On Tuesday at the 100 Lives Initiative in New York City, Amal Clooney stunned in a chic indigo gown with tasteful, skin-revealing cut-outs. And that guy with her? He didn't look too shabby either!
The 37-year-old human rights lawyer joined hubby George Clooney at the event, which honored the individuals and institutions who acted bravely in order to save lines during the Armenian Genocide 100 years ago.
It was George, 53, taking the stage for a good cause this time, but Amal, too, uses her voice to help others. Tina Fey and Amy Poehler playfully took aim at the power couple during their Golden Globes opening monologue…
VIDEO: George admits Amal's "the smart one," jokes about his political future
"George Clooney married Amal Alamuddin this year. Amal is a human rights lawyer who worked on the Enron case, was an advisor to Kofi Annan regarding Syria, and was selected for a three-person U.N. commission investigating rules of war violations in the Gaza Strip," said Amy. "So tonight…her husband is getting a lifetime achievement award."
George, of course, took it in stride. He also made sure to thank his brilliant bride when he accepted his Cecil B. DeMille lifetime achievement award that same night. "Listen, it's humbling to find somebody to love, especially when you've been waiting your whole life, especially when your whole life is 53 years," he said. "Tina and Amy, start the jokes."
"Amal," he went on, "whatever alchemy brought us together, I couldn't be more proud to be your husband."
NEWS: Amal responds perfectly when asked about her fashion choices while representing Armenia in human rights trial
George and Amal tied the knot on Sept. 27, 2014, in a lavish wedding in Venice. Around 100 guests celebrated with the couple, including celebrity pals Matt Damon and Bill Murray. The lovebirds spared no expense, either—E! News later learned the wedding cost around $4.6 million!
In the weeks before the couple said "I do," the pair attended the Celebrity Fight Night Gala, which benefits the Andrea Bocelli Foundation and The Muhammad Ali Parkinson Center. An eyewitness noticed George and Amal's intense chemistry, telling E! News, "They're one of those couples that crackle with sparkling wit when they're in each other's company and bounce off each other. She's make a joke, he'd roar with laugher and then add a punchline too and she'd laugh. They had their entire table laughing as well as people who came up to them throughout the night…"
"George and Amal are one of those couples that are meant to be together," added the onlooker. "It's so wonderful to see two people together who've obviously found their soul mate."
PHOTOS: Look back at George & Amal's road to engagement
RELATED VIDEOS:
Source:: http://ca.eonline.com/news/634401/amal-clooney-wows-in-sexy-cutout-dress-as-she-supports-hubby-george-see-the-pic?cmpid=rss-000000-rssfeed-365-topstories&utm_source=eonline&utm_medium=rssfeeds&utm_campaign=rss_topstories