Kat Von D Won't Drop Lipstick from Her Line, Speaks Out About Controversy: "This Is Not An Apology"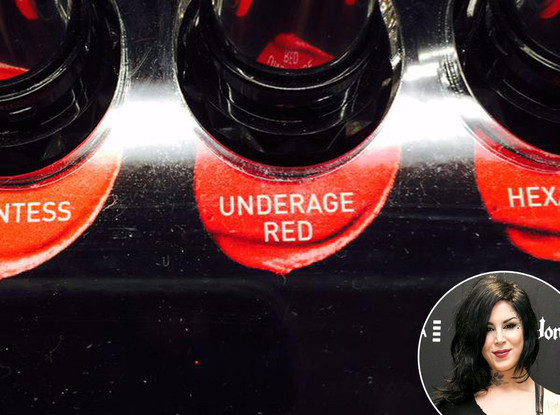 Twitter, Getty Images
When it comes to her lipstick names, Kat Von D makes no apologies (literally).
The tattoo artist came under fire earlier this week after a Twitter user flagged a red lipstick being sold in Sephora stores named "Underage Red," the connotation of which was up for question. In response, Kat took to where the hubbub all started—social media, of course—writing a letter to fans on Facebook about the lip color controversy.
"I should mention first, that I am the sole creative force behind my brand," the former LA Ink star wrote. "I am the one responsible for naming every single shade, so I don't see why anyone should aim any backlash towards such a great company like Sephora, who ultimately has no creative input on such matters. Although I do sell exclusively through them, my brand is it's [sic] own independent entity."
OK.
"'Underage Red' was one out of four lipstick shades that I released at the very start of the makeup line, seven years ago. It launched, alongside 3 other variation of red shades: 'Hellbent,' 'Misfit,' and 'Lolita.' Out of those 4 shades, "Underage Red" was the matte, borderline-neon, fire-engine red," she continued. "I clearly remember wearing a variation of this shade when I was 16 years old. I also remember the feeling of wanting so badly to go see a specific concert at this age, and not being able to get in to the venue because I was underage. Back then, I was already deeply in love with punk rock music, and although in the eyes of many (including my parents), it may have been inappropriate for me to be wearing lipstick. But i [sic] did."
OK—but we might note that something like "Sweet Sixteen Red" or "Not Your Mother's Red" could have sufficed.
"'Underage Red' is not a girly, pink shade. It is not a sophisticated, deep red either. It is an unapologetic, bold red. To me, 'Underage Red' is feminine rebellion," she added. (…er, OK.)
"These wild, and horrific accusations proclaiming that any aspect of my makeup line would ever promote the degradation of women, statutory rape, sexual behavior, human trafficking, underage drinking, or even idealization of fleeting youth, goes against everything I stand for. So, please excuse me if I find those articles and comments appalling and inaccurate…So, NO. I refuse to sacrifice my integrity and creative freedom. NO. I will not be pulling 'Underage Red' from my collection. And NO. This is not an apology."
OK, we read you loud and clear, Kat—but there are certain words with a can't-miss-even-if-you-tried-to connotation, and "underage" is one of them. Some things beg to be questioned, whether intentional or not. And a lipstick named "Underage Red" in the same collection as a lipstick named "Lolita" is one of them.
PHOTOS: 9 badass beauty trends to try this spring
RELATED VIDEOS:
Source:: http://ca.eonline.com/news/637686/kat-von-d-won-t-drop-lipstick-from-her-line-speaks-out-about-controversy-this-is-not-an-apology?cmpid=rss-000000-rssfeed-365-topstories&utm_source=eonline&utm_medium=rssfeeds&utm_campaign=rss_topstories