Jane Krakowski's New (Yet Familiar) Frontier With Unbreakable Kimmy Schmidt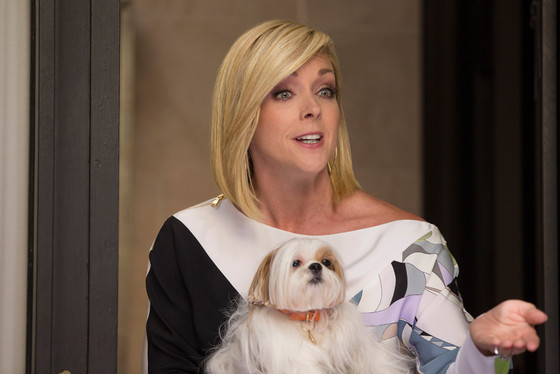 Eric Liebowitz courtesy of Netflix
For Jane Krakowski, Unbreakable Kimmy Schmidt represents something brand new, yet very familiar. The 30 Rock and Ally McBeal star is returning to the comedy world of Tina Fey and Robert Carlock with the new series that hopped from NBC to Netflix. It's a new world, with a very familiar feel for the Emmy nominee and Tony-winning actress.
"I absolutely love their writing and they're great people. We had such amazing times working together on 30 Rock," Krakowski told E! News in a phone interview. "I felt very honored that they would want me to come be part of their new show. I said yes before knowing anything about the character."
It took seeing only about five minutes of footage from the pilot for Krakowski to sign on. And once she said and received more scripts, she was "just so excited for what they had written for me and nervous that they thought I could pull this off, that they gave me this part to do."
MORE: Why Kimmy Schmidt is the most inspirational comedy in a long time
"I thought it was such a rich, funny character," she said. "I still, everyday, hope to be able to pull off their humor with what they are hoping to get out of it."
The character is not just Jenna Maroney with a new name. Jacqueline Voorhees' history is a surprising one; viewers will see that in episode three. But Krakowski was almost never part of the series starring Ellie Kemper as Kimmy Schmidt, a survivor of an apocalypse cult.
When 30 Rock ended, Krakowski said it was similar to the feelings she had after Ally McBeal wrapped. "After you have finished shows like Ally McBeal and 30 Rock, you just hope to work with/continue to work with great writers/creators," she said. "And I was lucky to be asked back by great writers/creators with Tina and Robert."
CLICK: Unbreakable Kimmy Schmidt's delightful poster
Eric Liebowitz/Netflix
However, before boarding Unbreakable Kimmy Schmidt, Krakowski was attached to Dead Boss, a Fox pilot also starring Amy Sedaris and Rachel Dratch. She said the part was a departure and she was looking forward to growing comedically with the cast. She didn't get the chance to.
"The day it didn't get picked up, Tina wrote me within like a half an hour asking me to come over [to Kimmy Schmidt], so it was a yin and yang of a day…I couldn't be happier with where I've landed. The Netflix people have been so great to us. It's going to be a new experience in that I've never been a part of something the way they air things with streaming. There's a great joke in Kimmy. Xan, my stepdaughter, says 'I googled you,' to Kimmy and she goes, 'Really? I didn't feel it,'" Krakowski said with a laugh. "That's what I feel like about streaming on Netflix. Like, 'You're streaming!' 'Really? I didn't feel it. What is it going to feel like? [Laughs.] I'm not sure what that means,' but I'm happy to be with the cool kids."
CLICK: See the Unbreakable Kimmy Schmidt trailer!
Eric Liebowitz courtesy of Netflix
Fans of 30 Rock and Krakowski's character, Jenna Maroney, should take note there is a stark difference between the two. For one, Fey advised Krakowski that Jenna was a terrible person.
"I have to say, I never approached playing Jenna as if she were a horrible person. [Laughs.] I mean, if you look back at her actions, she's not a good person, I understand the reality of that, but I think—I don't know, I just love Jenna. All of her horribleness and horridness is what was so fun about her, obviously," she said. "But I never approached her as if she was a horrible person, I think everyone has a reason for what they do, it's just how you approach it. But I did, from minute one on Kimmy, appreciate how much more vulnerable Jacqueline was. Vulnerable is not a word I would put to Jenna…Where I think with Jacqueline it's so innately built into her. As you see the episodes go, you see one of themes of the show—that I very much like—is we are all in our own bunker, so to speak. Jacqueline has created her own gilded cage that she completely changed her life to get into. For someone to work that hard to get into the world they thought they were in and still not be happy, is a complex and sad character to play at its ultimate core, even though it's told so humorously."
CLICK: When Kimmy Schmidt moved from NBC to Netflix
Eric Liebowitz courtesy of Netflix
Carlock said the seven years on 30 Rock with Krakowski were a lot of fun and the character seemed tailor made for her.
"We couldn't wait to find a way to work with Jane again, and it was like well what can we do that's different? This is a woman who, unlike Jenna Maroney from 30 Rock who scraped and clawed her way into show business, this woman probably hasn't worked very hard in a long time except at maintaining herself," Fey told E! News in January.
"And also unlike Jenna Maroney, I think this is a woman who, at her core, is a good person, and Kimmy will help bring that out," Carlock said.
CLICK: Tina Fey says Tracy Morgan is welcome on Kimmy whenever he's ready
Still, because the show hails from Fey and Carlock there is certainly a 30 Rock vibe, especially with the dialogue and jokes. And maybe with guest stars. Fey has been open about having a spot for Tracy Morgan when he's ready, something Krakowski would of course welcome.
"Oh my god, it would be awesome to have him. I know Tina has also mentioned that it might implode the entire show because I'm already established as a different character to have other characters come in. I think they wanted to have Jack McBrayer do something in the background at one point, dressed as Kenneth the Page. Although a genius idea, it might implode the entire story," she said, laughing. "But to be reunited with Tracy again, in any way, shape or form, would bring me the greatest joy. I love that guy. I've never had more fun or someone make me laugh more than Tracy."
Unbreakable Kimmy Schmidt season one is now streaming on Netflix. A second season has already been ordered.
PHOTOS: Unbreakble Kimmy Schmidt and the other new midseason shows—ranked
RELATED VIDEOS:
Source:: http://ca.eonline.com/news/632977/jane-krakowski-s-new-yet-familiar-frontier-with-unbreakable-kimmy-schmidt?cmpid=rss-000000-rssfeed-365-topstories&utm_source=eonline&utm_medium=rssfeeds&utm_campaign=rss_topstories