Is nail art entering a Golden period?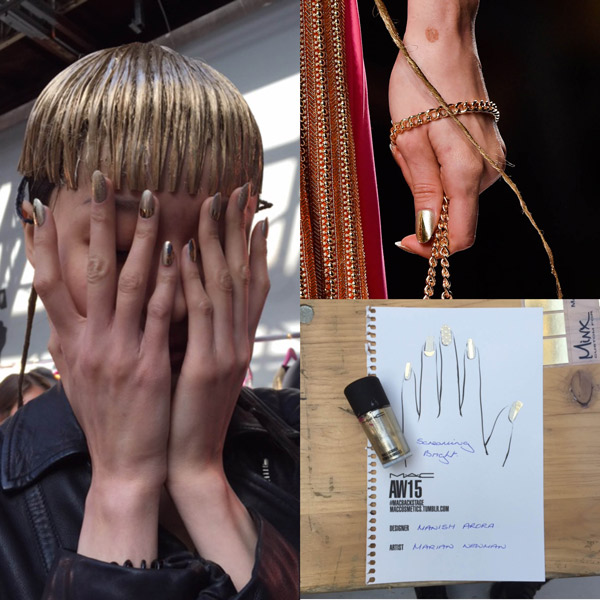 The golden nail weapons at Manish Arora. Image top right, ImaxTree.com
I spotted the perfect nails to match Kim Kardashian's new blond[1] lid backstage at Manish Arora. These golden talons are the work of nail queen, Marian Newman. What's the story behind then?
Her on the fly description:
"We've got a bit of medieval pop with some Burning Man influence, plus a bit of cartoon as well— because it's "Manish"
Her spin for this season:
"It's a bit more sophisticated with the nails than last season, which was about being bigger and brighter and bolder. This is a little bit more considered because the Manish woman is a little bit more grownup so she needs very beautiful and elegant nails."
The details:
"Each nail is painted with "Screaming Bright" from M.A.C and on top of each nail there are gold metallic shapes. Each finger has a different shape applied. It's like she's a warrior and this is her shiny armour—especially the thumb. There's this pointed shape because it's her most powerful weapon. This is what you see when they walk the catwalk. On the forefinger there's a straight line up the center; on the ring finger there's a little filigree to match some of the trousers with gems on the little finger there's a line on the outer edge."
What beauty look did the wildly talented Kabuki dream up?
In the midst of the usual backstage frenzy, you can always find makeup artist Kabuki calmly working on a model, or gently offering suggestions on what needs to be done. He laughs when I tell him he's so Zen. "Not on the inside!" he quips. For this season, his Manish woman is a somber warrior. "I wanted to evoke the mystique of Joan of Arc. It's quite androgynous, equal parts heroic and ethereal in its effect."
Here's what M.A.C Cosmetics products he used to create his golden army.
– Face and Body Foundation to create the dewy skin.
– The brows are brushed up and out.
– W10 Studio Concealer is used to highlight the brow bone, eyelid and cheekbone.
– Dusk Creme Color Base contours the upper eye connecting into the brow and contouring the nose using a stage make-up technique.
– Coffee Walnut Sculpting Creme is used in place of under eye concealer to create what Kabuki describes as a "brooding, battle-worn" look.
– The lips are nuded out with Lady be Good Retro Matte Lipstick.
– Taupe Blush is used to contour under the cheekbones.
– Melon and Vanilla pigment mixed with Shine Mixing Medium is brushed onto the top of the cheekbones and then set with Gold Reflex pigment.
-A mixture of Gold Metallic pigment with Mixing Medium Gel is brushed onto the center of the lips and even onto the ears.
READ MORE
Your ultimate guide to Paris Fashion Week Fall 2015
The Best Street Style Paris Fashion Week 2015
Fashion Faceoff: Paris Fashion Week Day 1[2][3][4]
Similar Posts:
You might also like
About Noreen Flanagan
Here's how a fashion and beauty fantasy day for me might unfold. First, I'd meet Alber Elbaz for an espresso and a croissant. Then Stella McCartney and I would go for a run to work off my bakery sins with Alber. At home, Guido Palau would be waiting to do my hair and then the charming Peter Philips would perform a makeup miracle. I'd then slip into a shift dress from Céline (it's Look 10 from the fall collection, if you're curious.) Because I'd be lunching with Haider Ackermann, I'd likely wear one of his long woven jackets. I'm thinking Look 14 would be perfect. Later that night, I'd have cocktails with Raf Simons wearing Look 5—or perhaps Look 3. And then—if I have the stamina—I'd join Karl at one of his swish afterparties. Yes, that's pretty much my fantasy day.
References
^ Kim Kardashian's new blond (www.ellecanada.com)
^ Your ultimate guide to Paris Fashion Week Fall 2015 (www.ellecanada.com)
^ The Best Street Style Paris Fashion Week 2015 (www.ellecanada.com)
^ Fashion Faceoff: Paris Fashion Week Day 1 (www.ellecanada.com)
Source:: http://ellecanada.com.feedsportal.com/c/34164/f/621200/s/44190972/sc/19/l/0L0Sellecanada0N0Cblog0C20A150C0A30C0A60Cnail0Eart0Eentering0Enew0Egolden0Eperiod0C/story01.htm