Halle Berry Shows Off Her "Beautiful, Sexy" Husband-Approved Lingerie to Ellen DeGeneres—Watch Now!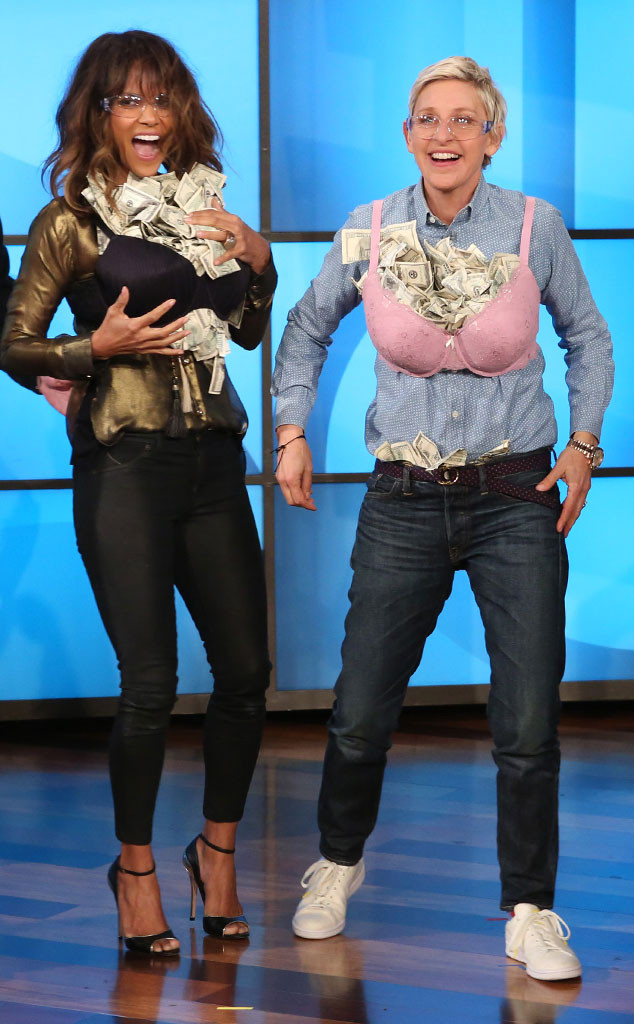 Ellen Show
If you've ever wondered what Halle Berry wears underneath those fabulous clothes, here's your chance to find out!
The A-list actress stopped by The Ellen DeGeneres Show Monday where things got a little revealing in the wardrobe department
In support of her new lingerie line at Target, Berry showcased just a few of the items that "are in my drawer" right now. It's safe to say Olivier Martinez's wife has some pretty good taste.
"I was in Paris one of these times tooling around and I saw this really beautiful lingerie line called 'Scandale Paris' and the women at the shop said to me, 'You know, this is a very beautiful line. It's way too expensive for anybody to buy so it's kind of going out of business,'" she explained as Ellen DeGeneres held up a few of the items. "Right in that moment I got the idea of what if I could buy this company and bring this beautiful lingerie to North America, but put it at a price point that every woman could afford." 
PHOTOS: Halle Berry's best looks 
She continued, "I could feel it and see how beautiful it was and I thought this is a great thing to bring back home and sell it at Target where people can really afford beautiful, sexy lingerie."
But of all products to get invested in, why underwear? Sure Britney Spears, Heidi Klum and other stars have joined the business and found great success. But it may be a bit unexpected from such a private star.
As it turns out, it may have something to do with that handsome husband of hers. "Were you into lingerie before?" Ellen asked.
 "Yeah, I'm big and being married to a French man, you kind of have to be," Halle shared. "That's part of it…" Enough said, girl. 
PHOTOS: Celebrities taking selfies in their underwear 
RELATED VIDEOS:
Source:: http://ca.eonline.com/news/641201/halle-berry-shows-off-her-beautiful-sexy-husband-approved-lingerie-to-ellen-degeneres-watch-now?cmpid=rss-000000-rssfeed-365-topstories&utm_source=eonline&utm_medium=rssfeeds&utm_campaign=rss_topstories