Ebola-sapped countries now face serious measles risk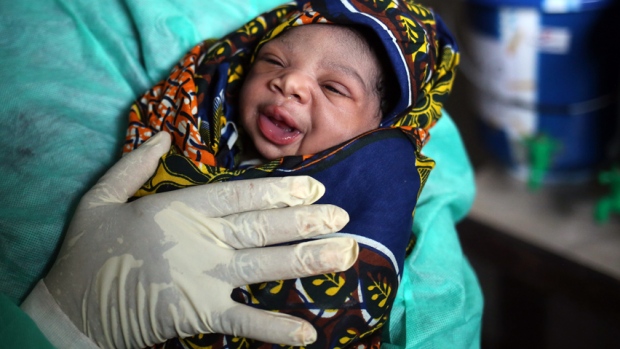 A midwife holds a newborn girl in Monrovia, Liberia, where the focus has started to shift from Ebola to planning catch-up vaccination campaigns for measles. (John Moore/Getty)
Measles threatens to kill more children than Ebola has in Liberia, Sierra Leone and Guinea unless vaccination gaps due to the Ebola outbreak are quickly filled to avert a second health crisis, researchers warn.
The Ebola virus outbreak that has claimed 10,004 lives worldwide disrupted health-care services, including routine vaccinations, in the three most-affected countries in West Africa. 
In Thursday's issue of the journal Science, Justin Lessler of Johns Hopkins University in Baltimore and his team used demographic data from the region to estimate the risk of a potential measles outbreak, based on where susceptible children are geographically. 
"I think the overall disruptions to the health-care system caused by Ebola can have indirect effects that can be as big or bigger than the effect of Ebola itself, and measles is one of those potential downstream effects," Lessler said.
After 18 months of disruption in routine measles vaccinations, the researchers estimated 2,000 to 16,000 additional deaths from measles could occur.
"I would call it both a worrying situation but also an indication that there's action that we could take that would likely have a big impact on human health," Lessler said.
He said previous humanitarian crises, such as the Ethiopian famine in 2000 and the eruption of Mt. Pinatubo in the Philippines in 1991, have contributed to measles outbreaks. 
He recommended supplemental vaccination campaigns against measles within a year providing Ebola cases continue to decline. 
Vaccinations needed, Doctors Without Borders agrees
Adi Nadimpalli, a physician with Doctors Without Borders working in Monrovia, Liberia, where measles cases have been identified, said it's "absolutely necessary" to now vaccinate against measles.
"We think that it's medically absolutely necessary to do it as soon as possible for all children less than 15 so that we don't have a second outbreak after this country has already suffered through Ebola," Nadimpalli said by Skype.
The vaccinations would need to be given using proper infection control measures, he said.
Libreria's Health Ministry has also identified measles cases in other counties outside of Monrovia. 
Princeton University's Saki Takahashi, a co-author of the paper published Thursday in Science, also suggested bundling other vaccines, such as polio, tetanus and diphtheria, since those routine vaccinations also slowed during the Ebola outbreak. Other public health measures such as vitamin A supplements and insecticide-treated bed nets could also be offered, if it's logistically feasible.
The three West African countries most affected by Ebola reported more than 93,000 cases of measles between 1994 and 2003 to the World Health Organization, which fell to about 6,900 in the following decade. 
For 2013, WHO and UNICEF said measles immunization rates among one-year-olds in Guinea, Sierra Leone and Liberia ranged from 62 per cent to 83 per cent. 
The research was funded by the Bill & Melinda Gates Foundation, U.S. Department of Homeland Security Science & Technology Directorate, the U.S. National Institutes of Health's Fogarty International Center, and the NIH's National Institute of Allergy and Infectious Diseases.
Source:: http://www.cbc.ca/news/health/ebola-sapped-west-african-countries-now-face-serious-measles-risk-1.2992246?cmp=rss