Cate Blanchett has a new baby girl!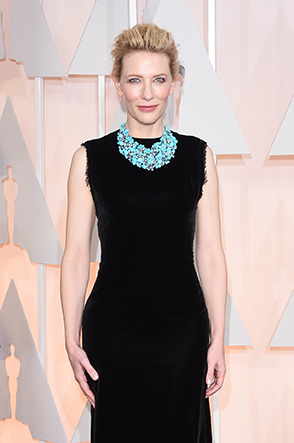 Cate, continuing to be great. (Getty)
In her typically cool, elegant, utterly-effortlessly-better-than-all -the-rest-of-us fashion, Cate Blanchett has managed the nearly impossible: She's added a brand new member to her family without anyone even suspecting it! (And no, it's not a puppy. It's a real human baby.)
Blanchett and her husband Andrew Upton have adopted a baby girl! The actress and fashion icon confirmed the exciting development to E! news, adding that there'll be no further comment on the matter. That means older brothers Dashiell, Roman and Ignatius get a brand new baby sis, and we get yet another reason to fawn at the feet of Blanchett.
 READ MORE:
The ultimate red carpet looks
[1]The 10+ most iconic Oscar dresses[2]
Similar Posts:
You might also like
About Sarah Laing
I can never finish The New Yorker before the next one arrives in the mail. I still haven't found that wear-anywhere mid-heel shoe, and I despair of locating the perfect red lipstick. I'm still working on making 'hats my thing', and I can kick my coffee habit anytime I want, okay? What I do know? Gone With the Wind is the greatest movie ever, and bliss is scrambled eggs on crunchy white bread.
References
^ The ultimate red carpet looks (www.ellecanada.com)
^ The 10+ most iconic Oscar dresses (www.ellecanada.com)
Source:: http://ellecanada.com.feedsportal.com/c/34164/f/621200/s/441f1986/sc/36/l/0L0Sellecanada0N0Cblog0C20A150C0A30C0A60Ccate0Eblanchett0Enew0Ebaby0Egirl0C/story01.htm