Canada Post flips to $194M profit in 2014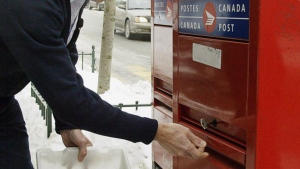 Canada Post earned $194 million before taxes last year, a turnaround from 2013 when the Crown corporation lost $125 million.
In a year in which it overhauled its business, phased out home delivery in many areas and drastically hiked prices, Canada Post made $194 million in profit before taxes last year, the Crown Corporation says.
The profit is a turnaround after 2013, a year in which the corporation posted a before-tax loss of $125 million.
The postal service credited three things with its improved financial performance: more parcels shipped, higher stamp prices, and lower costs from employee benefits.
Canada Post shipped $1 billion worth of parcels in Canada last year, the first time that's happened. When international parcels are included, total revenue jumped to $1.5 billion and volumes increased by seven million pieces compared to 2013, thanks in part to a very successful holiday season.
The company's core mail delivery business continued to shrink however, a continuing trend in recent years.
Canada Post delivered 5.2 per cent less mail or 214 million pieces, compared to 2013's level.
All in all, Canada Post now delivers 28 per cent less mail than it did in 2006 — that's 1.4 billion fewer pieces of mail.
Source:: http://www.cbc.ca/news/business/canada-post-flips-to-194m-profit-in-2014-1.3012205?cmp=rss