Bloody street-to-street combat expected as Iraqi forces enter ISIS-held Tikrit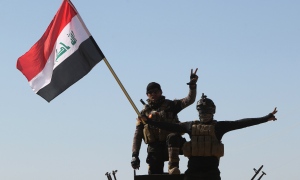 Iraqi soldiers and Shia militiamen entered the city of Tikrit, currently held by fighters of the Islamic State in Iraq and Syria (ISIS), on Wednesday, breaching one of the biggest strongholds of the extremists in a key test for Iraqi forces.
Allied Iraqi forces entered the city through its northern Qadisiyya neighbourhood, where authorities quickly established a supply line to reinforce troops, Salahuddin police Brig. Kheyon Rasheed told the state-run Iraqiyya television.
"The terrorists are seizing the cars of civilians trying to leave the city and they are trying to make a getaway," Rasheed said. It wasn't immediately clear whether the troops and militiamen faced any resistance.
A local official in Iraq's Salahuddin province also confirmed that Iraqi troops and the militias made it into Qadisiyya. He spoke on condition of anonymity as he was not authorized to brief journalists.
Video obtained by The Associated Press showed troops and militiamen marching alongside Humvees flying Iraqi military and Shia militia flags in that northern neighbourhood.
ISIS holds about a third of Iraq and neighbouring Syria in its self-declared caliphate. Tikrit, the capital of Salahuddin province about 130 kilometres north of Baghdad, is one of the largest cities held by ISIS militants and lies on the road connecting Baghdad to Mosul. Retaking it will give Iraqi forces a major supply link to retake Mosul.
Tikrit is a strategically valuable city because it lies on the road connecting Baghdad to Mosul. Here Iraqi troops can be seem celebrating as they advance on Tikrit. (Ahmad Al-Rubaye/AFP/Getty Images)
U.S. military officials have that said a coordinated military mission to retake Mosul, Iraq's second-largest city, likely will begin in April or May and involve up to 25,000 Iraqi troops. But the Americans have cautioned that if the Iraqis are not ready, the offensive could be delayed.
Iraqi forces retook the town of Alam, which borders Tikrit, on Tuesday, sealing off Tikrit to prepare for an offensive inside the city. Hidden bombs and snipers had slowed the troops' progress.
Preparing for urban combat
Iraqi government officials touted the high morale of Iraqi security forces going into the Tikrit operation, particularly after liberating Beiji, home to Iraq's largest refinery, in November. But the battle for Tikrit is likely to involve street-to-street fighting, something Iraqi forces have struggled with in the past.
Iranian military advisers have been helping guide Iraqi forces in their advance on Tikrit. Among those directing operations is Iranian Gen. Qassem Soleimani, commander of the powerful Revolutionary Guard's Quds Force.
The battle for Tikrit is likely far from over, as Iraqi forces have been left to mass on the perimeter of the city as advance troops clear the road of bombs and snipers. (Reuters)
The overt Iranian role and the prominence of Shia militias in the campaign have raised fears of possible sectarian cleansing should Tikrit, an overwhelmingly Sunni city, fall to the government troops.
The U.S. says its allied coalition carrying out airstrikes targeting the extremists has not been involved in the Tikrit offensive. Iraq's Prime Minister Haider al-Abadi has appealed for more aid for the country's beleaguered ground forces, which have yet to score a decisive victory against ISIS despite seven months of U.S.-led coalition air raids.
Most of the battlefield successes in Iraq have been coordinated efforts, with Iraqi and Kurdish forces and Shia militias fighting on the ground and the U.S.-led coalition providing air power. The siege on the village of Amirli just north of Baghdad, when many feared the capital itself might fall, was broken last year with the help of U.S.-led airstrikes and a fighting force of mainly Shia militias.
Shia militiamen backed by a coalition air campaign also retook the town of Jurf al-Sukhr, on Baghdad's outskirts, from the militants in October.
Source:: http://www.cbc.ca/news/world/isis-losing-ground-to-allied-iraqi-forces-in-tikrit-1.2990158?cmp=rss