Quebec measles outbreak grows to 119 confirmed cases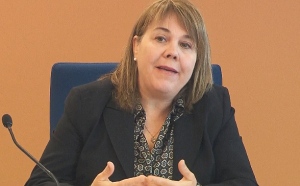 The number of measles cases in Quebec's Lanaudière region has jumped to 119 and includes a student who attends the École intégrée de Saint-Pierre.
Up to 700 students and staff members are at risk of contracting measles after a student attended the school while contagious. 
The elementary school has a pre-kindergarten program, meaning children as young as four attend the school.
Dr. Muriel Lafarge said the public health department was notified of the situation at the school yesterday.
Three pavilions at the school are concerned: Wilfrid Gervais, St-Pierre and Marie-Charlotte.
Lafarge said a protocol has been put in place to mitigate the risk. The protocol involves identifying all the unvaccinated people at the school and offering them the vaccine.
Those who refuse will be removed from the school for 14 days.
All 119 cases related
Yesterday, officials with the Lanaudière public health department announced there were 80 confirmed cases of measles in the region. All of the people infected with the disease were unvaccinated.
Dr. Joane Désilets said measles is highly contagious, which explains why it has spread so quickly in the Lanaudière region. (CBC)
​
The first Quebecers to contract measles were exposed while visiting Disneyland in California. Public health officials said Wednesday that all of the 119 cases are related.
"As of our last news conference on Feb. 21, we were at 19 cases. As of today, March 11, we are at 119 cases," said Dr. Joane Désilets.
She said that the jump in numbers of cases is a testament to how contagious the disease is. She said it's very easy to pass along to friends, family members, co-workers and students.
Measles is a highly contagious infection that causes high fever, a distinctive rash and a runny nose. Complications can include pneumonia, deafness and death in about one or two cases per 1,000 infected individuals.
Source:: http://www.cbc.ca/news/canada/montreal/quebec-measles-outbreak-grows-to-119-confirmed-cases-including-student-1.2990192?cmp=rss