Agents of S.H.I.E.L.D.: Will the Team Really Turn Against an Inhuman Skye?! Find Out What the Cast Reveals!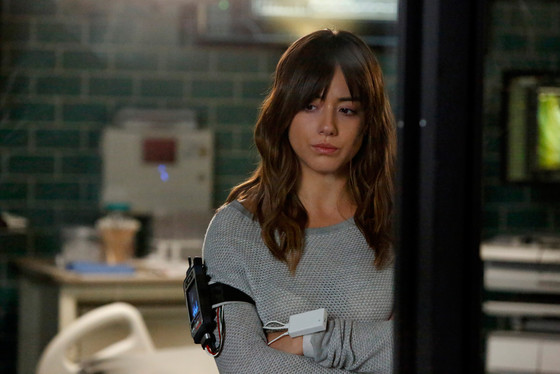 ABC
Does Inhuman equal evil?
Agents of S.H.I.E.L.D. fans know that despite gaining the power to cause an earthquake, Skye (Chloe Bennet) is still the same hero we've known and loved since she joined the team back in season one. But some of her team members don't exactly feel the same way.
In tonight's midseason premiere, several team members, motivated by their grief over losing beloved team member Trip (B.J. Britt), did not have any tolerance for anything alien or different, and when Skye saw how they reacted to Raina's (Ruth Negga) transformation, she decided to keep her newfound powers a secret.
MORE: Why Agents of S.H.I.E.L.D. will never be the same again
ABC
And helping her keep her new powers a secret is Fitz (Iain De Caestecker).
"People are starting to question things and with the way that he keeps the secret with Skye, I think that's more based on what happened to him and how people treated him," Caestecker told E! News along with a small group of reporters on set of Marvel's ABC drama. "He's like, 'Let's just take a second.' At that point I think he feels like he's the only one that really understands what she must be going through, that change."
But keeping this secret from the rest of the team may prove to be more difficult than they think, since they don't know exactly what they're dealing with yet.
"That was an impulse decision by Fitz, so I suppose he doesn't know what's going to happen," Caestecker said. "They don't really understand what is happening. They're not sure exactly what's going on with Skye, so discovering exactly what that is, and just the idea of keeping a secret is a hard thing to do within a secret organization like S.H.I.E.L.D." 
MORE: S.H.I.E.L.D. casts an Inhuman! Find out who's playing the major Marvel role
ABC
It was heartbreaking to see how negatively Simmons (Elizabeth Henstridge) reacted to Raina's transformation, telling Skye she wanted to exterminate Raina without realizing Skye was going through the same thing. So we had to ask: would Simmons really put down Skye if she knew the truth about her new powers?
"In the mindset she's in right now, yeah, I think so," Henstridge revealed. "Simmons is shutting down and she's taking orders from Coulson [Clark Gregg] and just doing it. As she sees it, the stakes are enormous and she can't let this happen again. She can't go through this again. She's taking a very scientific route. It's her way of grieving. She's traumatized. She's turning to science to try and get some absolutes."
As if the rift between Fitz and Simmons wasn't already big enough, if the truth ever got out about Fitz keeping Skye's powers a secret, that would only make it worse for the once inseparable duo.
MORE: Meet S.H.I.E.L.D.'s new big bad villain
ABC
"She's going to be very hurt," Henstridge said. "When that comes to light that he's kept that from her, it pains her that he would have to carry a burden and she wouldn't be able to ease that pain. it's going to get muddier before it gets clear, but this is potentially the first step at trying to figure their relationship out."
As extreme as Simmons' reaction is to this new Inhuman idea, she won't be the only one struggling to understand what's going on.
"We're going to see a spectrum of how people approach it," Henstridge teased. "This is a new thing that no one on our team has ever heard of, so there's going to be a lot of scrambling for a bit. No one knows what to do. Because of that, Agent Coulson does have to take everybody's opinions and every option into account. There's going to be some interesting discussions."
MORE: Is Adrianne Palicki's Mockingbird costume her best look yet? Vote now!
ABC
But in order for those discussions to take place, Skye has to come clean to the team about her new abilities, and that's something she's terrified to do.
"Simmons definitely has a pretty extreme reaction but Coulson is really who she's worried about," Bennet said. "She really doesn't want these powers. She says she doesn't, but deep down it's kind of awesome."
Will the team's reaction to her transformation send her running back to her real father Cal (Kyle MacLachlan) as he hopes?
"Let's just say that he was definitely right about how once you change, things aren't going to be the same and people aren't going to treat you the same way," Bennet teased. "There's definitely a level of discrimination against Inhumans. I wouldn't say that she turns to him but I would definitely say that their relationship changes a little bit."
MORE: What to expect from Mockingbird on S.H.I.E.L.D.
ABC
Now let's talk about that big elephant in the room…are Mac (Henry Simmons) and Bobbi (Adrianne Palicki) secretly Hydra?! By the end of the midseason premiere, viewers found out the two are working behind the team's back to locate and steal Nick Fury's (Samuel L. Jackson) toolbox from Coulson's office. 
"I don't think you should assume anything, honestly," Palicki said. "I think that Mac and Bobbi, they do have a secret, but whatever they're doing they think is the right thing. So it's not necessarily malicious, but you have to keep an open mind. When the secret does finally come out it's going to have massive repercussions on the entire team, but especially for [Hunter (Nick Blood) and Bobbi's] relationship."
Agents of S.H.I.E.L.D. airs Tuesdays at 9 p.m. on ABC.
CLICK: Definitive ranking of TV's best and worst superhero costumes!
RELATED VIDEOS:
Source:: http://ca.eonline.com/news/631781/agents-of-s-h-i-e-l-d-will-the-team-really-turn-against-an-inhuman-skye-find-out-what-the-cast-reveals?cmpid=rss-000000-rssfeed-365-topstories&utm_source=eonline&utm_medium=rssfeeds&utm_campaign=rss_topstories