Online video seems to show ISIS militants beheading Japanese journalist Kenji Goto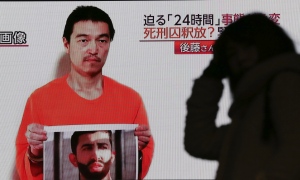 The Japanese government is trying to authenticate an Internet video purporting to show ISIS captive Goto beheaded, public broadcaster NHK said on Sunday.
The government of Prime Minister Shinzo Abe had put high priority on seeking the release of Goto, a veteran war correspondent captured by the militants in late October when he went to Syria seeking the release of another Japanese captive, Haruna Yukawa.
Previous videos purporting to show Goto had said he would be released if Jordan freed Iraqi would-be suicide bomber Sajida al-Rishawi. Amman said it was willing to free her if it could get assurances of the safety of a Jordanian pilot also held by Islamic State.
The video, released late Saturday, shows a militant with a British accent beheading Goto.
The video, released via militant websites, bore the symbols of previous Islamic State group videos. It could not be immediately independently confirmed by The Associated Press.
The fate of Japanese hostage Kenji Goto, like that of Jordanian pilot Lt. Muath al-Kaseasbeh, remains unknown. (Eugene Hoshiko/Associated Press)
Japan's deputy foreign minister, Yasuhide Nakayama, said late Friday that efforts to free Goto were "in a state of deadlock."
Source:: http://www.cbc.ca/news/world/online-video-seems-to-show-isis-militants-beheading-hostage-kenji-goto-1.2939085?cmp=rss