ISIS purportedly beheads Japanese hostage in new video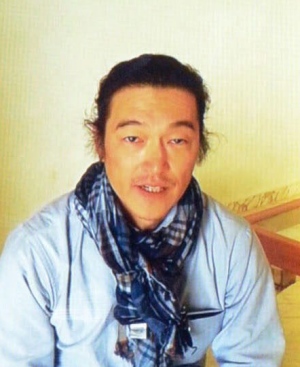 An online video released Saturday night purported to show an ISIS militant behead Japanese journalist Kenji Goto, ending days of negotiations by diplomats to save the man.
The video, released on militant websites and highlighted by militant sympathizers on social media sites, bore the symbol of the Islamic State in Iraq and Syria group's al-Furqan media arm.
Though the video could not be immediately independently verified by The Associated Press, it conformed to other beheading videos released by the extremists, who now control a third of both Syria and neighbouring Iraq in its self-declared caliphate.
The video, called "A Message to the Government of Japan," featured a militant who looked and sounded like a militant with a British accent who has taken part in other beheading videos by ISIS. He condemns Japanese Prime Minister Shinzo Abe and threatens Japan. 
Goto, kneeling in an orange prison jumpsuit, said nothing in the roughly one-minute-long video.
Kenji Goto was captured in October, after he travelled to Syria to try to win the release of Haruna Yukawa. (Masaya Kurosaki/Kyodo News/Associated Press)
U.S. officials said they were trying to confirm the authenticity of the video.
"We have seen the video purporting to show that Japanese citizen Kenji Goto has been murdered by the terrorist group ISIL," said Bernadette Meehan, a spokeswoman for the White House's National Security Council, using an alternate acronym for the extremist group. "The United States strongly condemns ISIL's actions and we call for the immediate release of all the remaining hostages. We stand in solidarity with our ally Japan."
Goto was captured in October, after he travelled to Syria to try to win the release of Haruna Yukawa.
Yukawa reportedly was killed previously, though authorities have yet to authenticate the video claiming that.
Saturday's video made no mention of another hostage, Jordanian pilot Lt. Muath al-Kaseasbeh, who was captured after his fighter plane went down in December over an ISIS-controlled area of Syria. The fate of Goto and al-Kaseasbeh had been linked by the militants.
The hostage drama began last week after militants threatened to kill Goto and Yukawa in 72 hours unless Japan paid $200 million.
Jordan and Japan reportedly conducted indirect negotiations with the militants through Iraqi tribal leaders.
Source:: http://www.cbc.ca/news/world/kenji-goto-isis-hostage-purportedly-beheaded-in-new-video-1.2939085?cmp=rss