Warmer weather on the way for Edmonton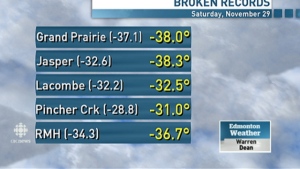 The Arctic air that's kept most of Alberta in its icy grip since Thursday is slowly moving off, says Environment Canada.
Temperatures in Edmonton on Sunday are expected to reach -15 C under sunny skies, although wind of 15 km/h will make it feel more like -32.
Although an extreme cold weather warning remains in place for areas outside of Edmonton, where temperatures are forecast to fall below -40 with the wind, the very cold wind chills are expected to lessen by Sunday afternoon.
Extreme cold warnings are issued when very cold temperatures or wind chill creates an elevated risk to health such as frost bite and hypothermia.
CBC Meteorologist Warren Dean says relief is on the way for Edmonton and northern Alberta, forecasting warmer temperatures beginning mid-week, with a high of -7 expected in Edmonton on Wednesday.
Dean said six cold weather records, set in the winter of 2006, were broken across Alberta on Saturday.
Edmonton police say this weekend's cold weather has made road conditions "challenging."
Police reported 116 collisions causing property damage just on Saturday, while RCMP reported  600 collisions across Alberta since Thursday.
Source:: http://www.cbc.ca/news/canada/edmonton/warmer-weather-on-the-way-for-edmonton-1.2855313?cmp=rss