Robert Pattinson Has "a Lot of Patience" for "Weirdos"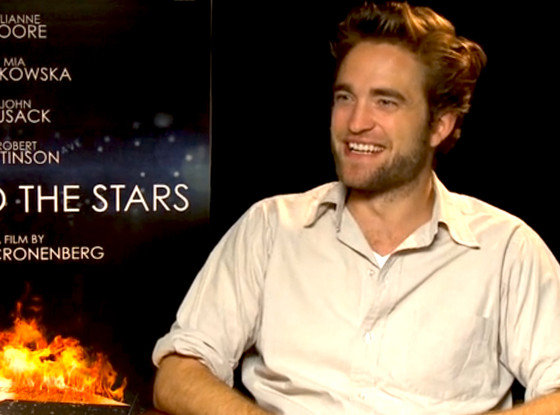 Yahoo!
Robert Pattinson may prefer being a conscientious observer when it comes to Hollywood as opposed to a center-of-attention kind of guy.
And he doesn't mind being a cog in a greater machine when it comes to his movie choices, either, his latest being a supporting turn in David Cronenberg's Maps to the Stars, a signaturely scathing disection of a subject that, this time around, is Tinseltown and the stars who make it shine.
"He told me it was the lead!" Pattinson joked in a recent interview with Yahoo! Movies when asked if he knew he was signing up for a supporting role alongside the likes of Julianne Moore, John Cusack, Mia Wasikowska and others. "No, I definitely knew. I didn't know what the part was at all until quite soon to shooting. I would do the same thing again, a million times."
PHOTOS: Happy Halloween! Check out these spooky, funny and sometimes sexy celebrity Instagrams
YouTube
Pattinson previously starred in the Cronenberg-directed Cosmopolis, and he says that he finds working with the filmmaker "very striking" every time.
"He's quite good at casting," he added. "I don't think he would offer me something if he didn't think I was right for it. I like the mood on set, he's kind of like…On this [film], I don't think I did any more than one take of anything. It's a nice way to work."
Rob may have cut his heartthrob teeth on the immortal-beloved role of Edward Cullen in the Twilight films, but he doesn't sound like an actor who's more concerned about top billing than the craft—nor does he seem to take himself too seriously.
Of course, that doesn't mean he doesn't find those who do take themselves way too seriously not entertaining…
PHOTOS: Celebs' most unrecognizable pics
"I think there's definitely something alien about [Hollywood]," Pattinson said, "mainly because people who act—it's really not necessarily just in Hollywood—theyr'e just people who…they examine themselves a lot more and like to talk about it. And I think if your'e spending a lot of time being self-obsessed you just  end up being kind of a weirdo."
He laughed. "It's kind of interesting. But I don't know if my view of Hollywood is particularly like that, I always find weirdos kind of entertaining and interesting and have a lot of patience for them for some reason. The tone [of the film] is that clinical, slight detachment from everything, that 's definitely [Cronenberg's] view."
PHOTOS: Robert Pattinson's movie star roles
RELATED VIDEOS:
Source:: http://ca.eonline.com/news/593940/robert-pattinson-has-a-lot-of-patience-for-weirdos?cmpid=rss-000000-rssfeed-365-topstories&utm_source=eonline&utm_medium=rssfeeds&utm_campaign=rss_topstories