Dozens gather to protest Gary Moostoos's ousting from City Centre Mall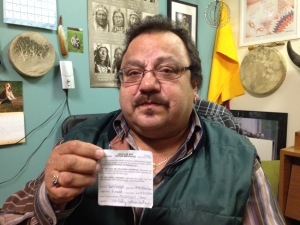 About 70 people marched into City Centre Mall on Friday to protest the shopping centre's treatment of an aboriginal outreach worker who was kicked out by security guards earlier this week.
Cultural advisor Gary Moostoos believes he was targeted by mall security because he is aboriginal and that he often meets with homeless people who gather in the mall. (Gareth Hampshire/CBC)
​Gary Moostoos was banned from the mall on Monday after security guards accused him of acting suspiciously, claiming he'd previously been banned from the building.
They also said he had been seen associating with others who had caused trouble in the mall.
Moostoos works for a local shelter and often speaks with homeless people who gather in the mall.
"I know a lot of people that have been re-traumatized just by hearing this story, it brings back a lot of memories," said Anna Faulds, who attended Friday's rally.
Letter given to mall management
In a letter presented to the manager of City Centre Mall during the rally, people supporting Moostoos said they will boycott all properties owned by Oxford Properties and encourage others to do the same until "tangible actions are taken."
"The incident in question concerning a well-respected elder appears to have been racially motivated, and as such has created irreparable damage to the dignity of a human being and has grossly undermined the reputation of Oxford Properties as a well-reputed Edmonton business," reads the letter signed by "Concerned community members."
The letter includes a list of recommendations for the City Centre Mall, including a request to set up a space within the mall for "job training and placement of marginalized individuals that openly supports and accepts them as part of your community."
Brianna Olson, the organizer of Friday's rally, reads a letter to the manager of City Centre Mall. (CBC)
​After receiving the letter, mall manager Olympia Trencevski apologized again to the group of Moostoos supporters.
"I'm really overwhelmed, I'm listening, I want to make this right," she said. "I'm really sorry for what happened to Mr. Moostoos."
"We've apologized to him, we've reached out to him as well, when he's ready we'll be here for him. I'm going to take this letter and reflect and pass it on to my corporate office."
Trencevski presented Olsen with tobacco, a traditional aboriginal offering, and asked rally organizer Brianna Olson for a hug.
After the two embraced, the rally ended and the group left the mall. 
Moostoos not ready to return
Moostoos, who was not at today's rally, described the ordeal as a case of racial profiling and has said he is not yet ready to meet with mall officials.
When he spoke to CBC earlier this week, Moostoos said he is still feeling shaken by what happened but thinks the news of his experience has forced others to think about the prejudices faced by First Nations people in Canada.
On Wednesday, the Oxford Properties Group sent out a release apologizing to Moostoos and promising to provide cultural training to its staff.
Source:: http://www.cbc.ca/news/canada/edmonton/dozens-gather-to-protest-gary-moostoos-s-ousting-from-city-centre-mall-1.2820235?cmp=rss