Nicholas Hoult Breaks Silence on Ex-Girlfriend Jennifer Lawrence's Stolen Nude Pics: "It's a Shame"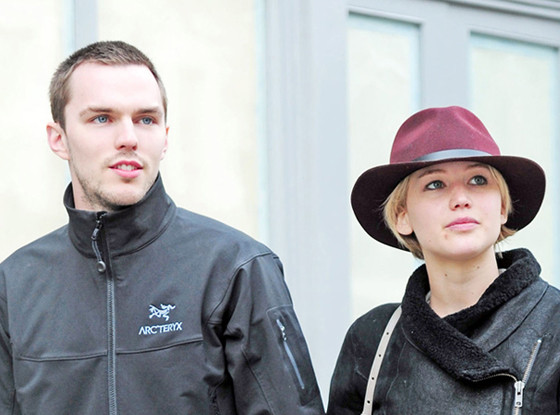 Xposure/AKM-GSI
Nicholas Hoult has finally spoken out about the unfortunate nude photo scandal that affected ex-girlfriend Jennifer Lawrence—and no lie, it was kinda awkward.
The actor appeared on Good Day New York to promote his new film Young Ones with director Jake Paltrow (yep, that's Gwyneth Paltrow's brother, which only makes this even more interesting since J.Law is now dating Gwyneth's ex-hubby Chris Martin), and in the middle of their interview, the reporter decides to bring up the hacking.
She began by saying, "Speaking of friends, Jennifer Lawrence, she's been making a lot of news lately because of the pictures that were hacked and I think they might have been pictures that were sent to you." Yep, she went there, and kept rambling about the topic until she finally gave Hoult a chance to respond.
MORE: Jennifer Lawrence opens up about stolen nude photo
Staying cool, calm and collected, Hoult simply responded with, "It's shocking that things like that happen in the world. It's a shame."
His comment on the incident comes just a day after J.Law Lawrence broke her silence about having dozens of nude pictures stolen and distributed online. "I was just so afraid," she told Vanity Fair. "I didn't know how this would affect my career."
She continued, "Just because I'm a public figure, just because I'm an actress, does not mean that I asked for this. It does not mean that it comes with the territory. It's my body, and it should be my choice, and the fact that it is not my choice is absolutely disgusting. I can't believe that we even live in that kind of world."
Lawrence was tempted to write a statement in August, but reconsidered. "Every single thing that I tried to write made me cry or get angry. I started to write an apology, but I don't have anything to say I'm sorry for. I was in a loving, healthy, great relationship [with Hoult] for four years," she recalls. "It was long distance, and either your boyfriend is going to look at porn or he's going to look at you."
PHOTOS: Jennifer Lawrence's most outrageous quotes
RELATED VIDEOS:
Source:: http://ca.eonline.com/news/587183/nicholas-hoult-breaks-silence-on-ex-girlfriend-jennifer-lawrence-s-stolen-nude-pics-it-s-a-shame?cmpid=rss-000000-rssfeed-365-topstories&utm_source=eonline&utm_medium=rssfeeds&utm_campaign=rss_topstories