Thumbnails Special Edition: The Legacy of Siskel & Ebert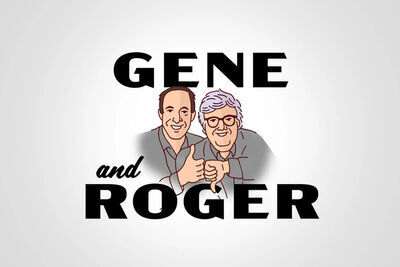 To celebrate this week's launch of The Ringer's new eight-part podcast series, "Gene and Roger," hosted by Brian Raftery, we are presenting a special edition of Thumbnails featuring highlights from the incomparable on-air partnership and off-camera friendship of Gene Siskel and my late husband, Roger Ebert. I am just returning from the Cannes Film Festival and as soon as I get settled in will listen to the podcast. But until then, we wanted to offer some entertaining tidbits from Roger and Gene's broadcasts together. Also be sure to visit The Official Roger Ebert YouTube page and stay tuned for the official Siskel & Ebert website, coming soon. Enjoy!— Chaz Ebert
1.
"How Gene Siskel and Roger Ebert Taught a Generation to Argue": Brian Raftery presents an excerpt from the first episode of his podcast, "Gene and Roger."
"At the end of each episode of 'Siskel & Ebert,' Gene and Roger would deliver their verdicts on the week's big movies: thumbs-up or thumbs-down? If that sounds quaint now, remember that back then, there was no internet. No Tomatometer. So Siskel and Ebert's votes had power. If they gave a film their trademark 'two thumbs up!'—whether it was 'My Dinner With Andre' or 'Anaconda'—moviegoers would take it seriously. And if they went thumbs-down? Woof. Burt Reynolds, who starred in several poorly reviewed movies, called Gene and Roger 'the Bruise Brothers.' Eddie Murphy once noted that a two-thumbs-down verdict could kill a film. You could gripe about Siskel and Ebert's decisions—and they made some truly strange calls over the years. Like when they both gave 'Reservoir Dogs' a thumbs-down. Yet even if you disagreed with them about a movie, you always wanted to know why they voted the way they did. They could boil down big observations into just a few quick, cutting sentences. And while they got heated at times, they were never mean to each other. Most importantly: They were able to sound smart without ever coming off as show-offy."
2.
"Thumb and Thumber: Siskel and Ebert have their digits on the pulse of the mainstream. Even Hollywood gives them a thumbs up.": Our contributor Donald Liebenson celebrated the twentieth anniversary of "Siskel & Ebert" in this article published on December 10th, 1995, at The Los Angeles Times.
"'My Dinner With Andre' is the film most often cited as the one that demonstrated 'Siskel & Ebert's' power to make so-called art-house films accessible to mainstream audiences. 'Our movie was greeted with great enthusiasm at the New York Film Festival,' Shawn recalled, 'but then it opened and nobody came to it. The only reason it stayed open as long as it did was [co-star] Andre Gregory and I went every day to the office of the distributor, who also owned the theater, and begged him to keep it open.' Siskel and Ebert's rave review of the film was broadcast the week the film was scheduled to close. 'Business increased dramatically,' Shawn said. 'The people came and it moved on to other cities and it became a tremendous hit for a low-budget art film. In my mind, if they hadn't spoken so passionately and eloquently about it and made it seem so interesting, I think it would have been consigned to the scrap heap of history and would have been considered a failed film.'"
3.
"Ebert and Siskel interview each other": This story originally ran in The Chicago Tribune's Arts & Entertainment section on April 19th, 1998.
"Ebert: 'Gene, you recently praised 'The Newton Boys,' which I voted thumbs down on. I defy anyone to find 'The Newton Boys' more enjoyable than 'The Players Club.' The verdict 'cheap exploitation film' is presented here as a fact, but should more accurately be presented as your opinion. Several important critics joined me in noting the energy, humor and life of the film. I also have the greatest respect for you, Gene, but if you have a flaw, it is that you are parsimonious with your enjoyment, parceling it out as if you are afraid you will prematurely expend your lifetime share.' Siskel: 'The answer to this one is contained in the admittedly loaded question. Roger is easy; I am demanding. But at the end of the year I always chide myself to be tougher and to stay away from what I call the 'polite' three-star review, a recommendation of a marginal film that upon reflection I might not really wish upon a friend. Here's hoping I have fewer of those lapses this year.'"
4.
"Tom Shales lunches with Siskel and Ebert": A reprint of Tom Shales' interview with Gene and Roger, originally published on September 4th, 1983, at The Washington Post.
"Siskel and Ebert ended each 'Sneak Previews' with a 'Dog of the Week,' each critic's pick for most resounding clinker, heralded by the arrival in the show's little prop balcony of Spot the Wonder Dog. But Spot left the show under mysterious circumstances (the trades were abuzz with speculation). We wanted the real story. 'You want the story of Spot, I'll tell you the story of Spot,' says Ebert. 'Spot was fired by PBS because of his salary demands. He was getting $40 a week.' 'No, I think he'd gotten higher–65 a show,' says Siskel. 'And there was a fee negotiated, apparently, for extra time. If we had a retake or a lunch break or a camera screwed up, the time sequence might change and the dog would have to stay longer. And I think what happened was they wouldn't pay Bob Hoffmann, his owner, the overtime for his dog. You can laugh about it, but a deal's a deal, and they tried to back off.'"
5.
"When Siskel and Ebert Defended 'Star Wars' After It Was Called 'Not Cinema'": As recalled by The Hollywood Reporter's Ryan Parker.
"That is the moment Ebert predicted the future, decades down the road, when the Walt Disney Co. would purchase Lucasfilm. 'These are the sorts of movies the Disney people should be making and the kind of movies that Disney made 20, 30 years ago,' Ebert said. 'I think all movies are special effects. Movies are not real. They are two-dimensional. It's a dream. It's an imagination. So, as to whether this film is good or not, it excited me. It made me laugh. It made me thrilled. And that's what a movie like this is for. I also enjoy films by Ingmar Bergman and people like that. I share that taste with Mr. Simon, but I try, I think in my own moviegoing taste, to be broad enough to try and understand why a bunch of people would want to get together and see a 'Star Wars' movie and enjoy it.'"
6.
"Farewell, my friend": Roger's heartfelt eulogy for Gene, published on February 21st, 1999.
"Gene kept private about the state of his health in the months after his surgery. I understood why. He wanted to protect his family from the attention that might result. He wanted the focus to remain on his film criticism, and although it was obvious sometimes that he walked slowly and was in pain, I never once heard him complain. He carried on with a bravery it is hard to imagine. We did the TV show together for 24 years. It was a strange format: Two ordinary-looking guys from Chicago, sitting in a balcony talking about the movies. One question we were asked, again and again, was: 'Do you really hate each other?' There were days at the beginning of our relationship when the honest answer sometimes was 'yes.' It was unnatural for two men to be rivals six days of the week and sit down together on the seventh. But over the years respect grew between us, and it deepened into friendship and love."
Image of the Day
In an episode of the animated comedy series, "The Critic," aired on March 12th, 1995 and entitled, "Siskel & Ebert & Jay & Alice," Gene and Roger made an unforgettable appearance as themselves. You can watch it here.
Video of the Day
The excerpt referenced above from "I Must Destroy Him," the first episode of host Brian Raftery's new eight-part podcast series on The Ringer, "Gene and Roger," can be listened to in the video embedded above.