Whose Gaze: A Roundtable of Black Film Critics at the Movies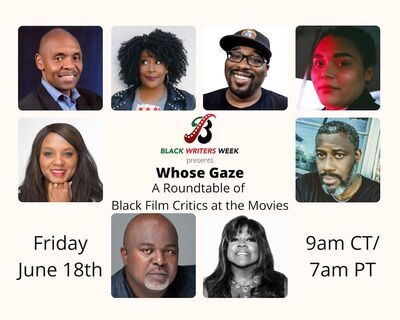 The second virtual panel for Black Writers Week premieres Friday, June 18th, at 9am CT/7am PT on The RogerEbert.com YouTube page. The panel is entitled "Whose Gaze: A Roundtable of Black Film Critics at the Movies," and features the following distinguished panelists: Sarah-Tai Black, co-host of Netflix's Black Film School; Emmanuel Noisette, author/creator of E-Man's Movie Reviews; Tambay Obenson, founder of Shadow & Act; Reginald Ponder, a.k.a. The Reel Critic of The Garfield/Lawndale Voice; Carla Renata, host of The Curvy Critic; Gil Robertson, co-founder and president of the African American Film Critics Association; Kathia Woods, creator of CupofSoulShow' and moderator Chaz Ebert, publisher and Editor-in-Chief of RogerEbert.com.
Below is the embedded video along with bios and headshots of each participant…
SARAH-TAI BLACK
Sarah-Tai Black is a film programmer, critic, and arts curator living in Toronto/Treaty 13 Territory. Their writing has been published by several outlets, including The Globe and Mail, The Los Angeles Times, Cinema Scope, and MUBI Notebook. They have spoken about arts culture, film, and moving image arts in their many forms as a guest of the National Gallery of Canada, the Museum of Contemporary Art (Canada), Screen International, and Huffington Post. Sarah-Tai currently appears as a co-host on Netflix Film Club's online video series Black Film School and has previously worked alongside the programming teams at TIFF, Tribeca Film Festival, and True/False Film Festival. Their work often focuses on the affective and functional capacities of Black life in screen images and visual media.
EMMANUEL NOISETTE
Emmanuel Noisette (or "E-Man" ) is the author and creator of E-Man's Movie Reviews. He is a Rotten Tomatoes approved film critic, and a member of the African American Film Critics Association. Emmanuel is also the Director of the Chicago Indie Critics who seek to highlight diversity in film criticism.
He serves as the lead film critic for TheMovieBlog.com, and has been featured on TheWrap.com , Yahoo Entertainment and MSNBC. In addition to writing about films, Emmanuel is also a video content producer and social media influencer.
He has a combined social media following of over 300K followers including Facebook, YouTube, and Instagram.
TAMBAY OBENSON
Tambay Obenson founded the Shadow & Act Black cinema and television online hub in 2009, where he served as editor-in-chief for 8 years, before selling to Blavity Inc in 2017. After a year-long vacation, he joined the Indiewire editorial team, where he is now a full-time staff writer, covering primarily cinema and television of Africa and its global diaspora.
REGINALD PONDER
Reggie Ponder, The Reel Critic, can be heard each Friday on WBEW 91.1 FM Chicago/Vocalo.org. He is the resident film critic for The Garfield/Lawndale Voice in Chicago and has several radio/internet segments designed to elevate Black voices in film.
His latest project is The Reel Critic Roundtable @ reggieponder.com, a weekly showcase featuring four African American critics discussing film, TV and industry news. His work can also be found at various publications – most recently Variety Magazine. Reggie is member of the African-American Film Critics Association and the Critics Choice Awards.
CARLA RENATA
Carla Renata aka The Curvy Film Critic™ is a graduate of Howard University and named one of 2018's Underrepresented Critics of Color by the Los Angeles Times. Her reviews, articles and/or op-ed's have been featured at AAFCA.com, Ebony.com, NPR.org, her own site The Curvy Film Critic, ET Live! Maltin on Movies, RogerEbert.com, as well as Shadow and Act, EUR Web, FOX 11-LA, Good Day LA and Variety. She is a highly sought after host/moderator who had the privilege to host an evening of The Black Experience on Film for Turner Classic Movies sponsored by AAFCA, Q&A's for Bentonville Film Festival, Netflix, SAG-AFTRA, American Cinematheque, Lionsgate, Film Independent and more.
Being a proud member of AAFCA (African American Film Critics Association), (OAFFC) The Online Association of Female Film Critics, (AWFJ) Alliance of Female Journalists, Tomatometer approved critic on Rotten Tomatoes and a member of (CCA) Critics Choice Association.
The Curvy Critic with Carla Renata streams LIVE every Sunday 5pm PST via YouTube featuring reviews, news and interviews with stars in front and behind the camera.
GIL ROBERTSON
For nearly three decades, writer/author Gil L. Robertson IV has used the written word to enlighten, empower and uplift. The one-time political organizer initially made his mark in entertainment journalism, penning over 50 national magazine covers and contributing bylines to a wide range of publications that include the Los Angeles Times, the Atlanta Journal-Constitution, Billboard, Fortune, Essence and Ebony. He is also the founder and creator of the nationally syndicated Arts & Lifestyle column, The Robertson Treatment, which began twenty years old with an interview with Samuel L. Jackson for Eve's Bayou. Today, The Robertson Treatment has a reach of nearly two million.
As an author, Robertson has specialized in books that empower his readers, beginning first with the self-published Writing as a Tool of Empowerment (2003), a resource guide primarily aimed at young people interested in journalism. From there, he edited the groundbreaking 2006 anthology Not in My Family: AIDS in the African American Community where he gathered a diverse mix of voices that include Oscar winner Mo'Nique, Congresswoman Barbara Lee, legendary singer Patti LaBelle and former U.S. Surgeon General Joycelyn Elders, all addressing one of the most pressing public health and social challenges of our time. His subsequent anthologies—Family Affair: What It Means to Be African American Today (2008) and Where Did Our Love Go: Love and Relationships in the African American Community (2013)—ignited a national conversation about identity and love and relationships in the 21st century.
In addition, Robertson has been a regular contributor to The African American Almanac (Gale Press). Accolades for his work include "Pick of the Week" selection by Publisher's Weeklyfor Family Affair and a NAACP Image Awards nomination for Not in My Family. Book of Black Heroes: Political Leaders Past & Present, his latestfrom Just Us Books, is a full circle moment for Robertson who began the first phase of his career in politics. The collection of biographies on game-changing elected political leaders like former President Barack Obama, pioneering Los Angeles mayor Tom Bradley, current U.S. Senator Kamala Harris and Reconstruction era governor Pinckney Benton Stewart Pinchbank is intended to introduce young readers especially to not only dynamic personalities but to the concept of individual and political leadership.
Never one to sit on the sidelines of any pressing issue, in 2003, Robertson rolled up his sleeves and got to work as the co-founder of the African American Film Critics Association (AAFCA), the largest collection of Black film critics in North America. As its president, Robertson oversees the annual AAFCA Awards, which has become a recognized fixture of the Hollywood awards season. In addition to highlighting African American achievement behind and in front of the camera, AAFCA works with the industry to usher in and support African Americans in the Hollywood community, uniting consumers, creators and gatekeepers. Robertson also serves as a public ambassador for diversity within the industry, appearing on numerous shows on networks like CNN.
Robertson earned a B.A. in Political Science from Cal State Los Angeles and is a professional member of the National Press Club, National Association of Black Journalists, The Recording Academy, The National Academy of Television Arts and Sciences and the Motion Picture Association of America. He is also a national lecturer who speaks on such issues as fostering diverse representation in the entertainment industry, as well as personal and communal development.
KATHIA WOODS
Kathia Woods is a movie critic/entertainment journalist out of Philadelphia, PA and the creator of CupofSoulShow. CupofSoulShow is an online outlet that covers minority creatives in film, television, and music. She is also a contributor to Mark and Denise in The Morning on 860 A.M WWDBAM.Com. Sundance, SXSW, Tribeca, and The Philadelphia Film Festival are some of the events that she has covered through her brand.
Kathia was born in Munich Germany but is of Brazilian descent. She is fluent in 5 languages and a graduate of Temple University, where she obtained a Bachelor of Arts. Kathia is a member of several great organizations amongst them Philadelphia Grammy Chapter, Women in Music, NAWBO, NABJ, NAHJ, and LVVH. She's the co-chair of the Arts and Entertainment committee of her local NABJ chapter PABJ. Her most important title, however, is wife to Kevin and mother to Katharina. In her spare time, she likes to read, travel and cook. Twitter: @Kathia_Woods; Instagram: Kathia_Woods; Facebook: Kathia Woods
CHAZ EBERT (moderator)
Chaz Ebert is the CEO of Ebert Digital LLC, which publishes the movie review site, Rogerebert.com. She produces television and movies, and co-founded the Ebertfest Film Festival, now in its 22nd year, with her late husband, Pulitzer-prize winner, Roger Ebert. She awards The Golden Thumb and Ebert Humanitarian Awards at Ebertfest, and at the Toronto and Chicago International Film Festivals to filmmakers who exhibit an unusually compassionate view of the world.
As president of the Roger and Chaz Ebert Foundation her civic passions include programs to help break the glass ceiling for women and people of color, and to provide education and arts for women, children and families. She also supports programs with a global interest in encouraging empathy, kindness, compassion and forgiveness. She has provided grants to support films with strong social justice themes, and also encourages and supports emerging writers, filmmakers, and technologists with her endowment of scholarships, internships or awards at the Sundance Film Festival, Film Independent Spirit Awards – Project Involve, the University of Illinois Ebert Fellowships, the Hawaii International Film Festival-Young Critics Program, the Telluride Ebert/TFF University Seminars, the Chicago International Film Festival- Ebert Director Awards, and the Columbia College Links Journalism Awards in conjunction with the Chicago Urban League.
She is an executive producer of 3 recently acclaimed films: "Passing," directed by Rebecca Hall; "A Most Beautiful Thing," directed by Mary Mazzio; and "Mr. Soul!", directed by Melissa Haizlip. She is also an executive producer of the New Works Virtual Festival to assist in raising funds for The Actors Fund, a charitable organization supporting performers and behind-the-scenes workers in entertainment, helping over 17,000 people each year.
Previously as an attorney she was named Lawyer of the Year by the Constitutional Rights Foundation. She was named the 2019 Beethoven Laureate for being "a humanist who promotes justice and a better world through the arts"; by the International Beethoven Project. She is a life trustee of the Art Institute and serves on the boards of the Lyric Opera, the Abraham Lincoln Library Foundation, After School Matters, the Shirley Ryan Ability Lab, the Honorary Board of Family Focus, and the Advisory Board of Facets Multimedia. Some of her professional affiliations include the African American Film Critics Association,
the Alliance of Women Film Journalists and the Chicago Film Critics Association.